Some people like to camp but do not want a large travel trailer or do not want to spend the money for one.  For those people, how do they find the best off-road camper trailer that is affordable as well, under $10,000?
There are many off-road camper choices for those who want to travel in areas not suitable for a typical travel trailer.  Manufacturers like Bivouac, Hiker Trailer, TC Teardrops, and Oregon all make quality off-road models that will not break the bank.
Deciding which off-road camper trailer to buy when price and quality are a concern is not as difficult as one might think.  Each of these manufacturers offers quality products under $10,000 and is sure to get you to where you want to be to camp.
Off-Road Camper Trailer Selection
Each of the brands listed here has been researched to determine overall customer satisfaction and how they perform for their intended purpose.  Remember, an off-road camper trailer is designed to get you and your family places that you would not be able to get to normally, especially with a travel trailer.
Each of these off-road trailers is compact, rugged, and able to get off-road with whatever vehicle that you are using to tow.  The ability to add on kitchens (galleys), showers, and other amenities also make it attractive to those that want to rough it but still want some standard creature comforts of home.
Based on the above criteria, this list was generated as a general information guide to help you along the way in purchasing your off-road camper trailer.  Of course, we also wanted to keep the price down to $10,000 or less for those trying to stay within a specific budget.
Need something bigger? Read "3 Best Travel Trailers for Family of Four." Or "Best Bunkhouse Travel Trailer Under 30 Feet."
Don't forget to check out our Recommended RV Equipment list!
Bivouac Fort MOAB Trailer
The Bivouac Fort MOAB (Mother of All Bivouac) Trailer comes with plenty of starter options, all for $8,800.  This unit weighs a total of 1250 pounds (without equipment) and is 10.5 feet long, making it extremely easy to tow with almost any type of vehicle.
While there are other options that you can buy, there are also quite a few that come standard on this unit.  The below options are standard with the off-road trailer:
Standard Options
Powder-coated tube steel construction
Electric brakes
Galley
Steel wheels
Front swivel jack
LED lighting
Top cargo tray
Although this model does not come with a tent, one can be purchased, which will still leave you plenty of wiggle room with your budget.  The tent comes in two different choices, a manual lift and an electric lift.  The manual lift will cost $654, while the electric will run you $1,104.  
If you decide to keep the cost as low as you can, going with the manual tent would be the best option.  Buying that option would bring you to $9,454 before taxes.
If you decide that you need to go to the electrical lift tent, that will run you $9,904 before taxes.  If your budget of $10,000 is the most you can spend, there are no other realistic options left for you to add on.  
However, if you think you can afford something a little higher, Bivouac offers several other options available for purchase.  A breakdown of their main options and their prices are below:
| Additional Options | MSRP |
| --- | --- |
| Front Tote Full | $324 |
| Privacy Tent (shower) | $246 |
| Side Awning | $882 |
| Barbeque Grill | $288 |
| Rear Stabilizers | $272 |
| Galley Basic | $895 |
| LED Outside Flood Light | $319 |
| Storage For Fuel/Water, etc. | $75 |
| Rear Awning | $723 |
Hiker Trailer Mid-Range Deluxe
Hiker Trailer offers four different models that you can select from and customize.  The pricing for their models starts with their base called the Highway Deluxe.  This model starts at $5 595 before any customization.  
Hiker Trailer's pricing continues until you reach their maximum model, the Extreme Off-Road.  The maximum price for this unit will set you back $11,895, again, without any customization.
One of the benefits of this model over the Bivouac is the size of the tires alone, 17 inches, roughly two inches larger than that of the MOAB.  The tire size is important because of the type of terrain you will be taking this type of off-road camper in.  
The low price of this off-road camper makes it possible to add different amenities while still staying inside of your budget of $10,000.  Some of the options that are available to add are below:
Side doors
Diamond plating
Brakes 
Cabinets 
Tables 
Solar panels
AC prep
Heat
Awning
Options
Whereas the company does not provide a specific price for each additional item, you can see how the item's addition affects the overall cost.  When you navigate to the build screen on the website, all options that are available for purchase are listed.  Each time you select an option, the price for that option is added to the total cost.
Although the additional options will undoubtedly make your camping experience more comfortable, they also are not needed.  What, if any, additional options you add are entirely up to you.
Here are some other camper trailers under $10,000 to consider:
TC Teardrops
TC Teardrops manufacture four different off-road campers that they offer for sale.  Their basic model, the Oasis, would be perfect for anyone who loves the idea of roughing it with minimal options.  Think of tenting, with a trailer and no other options.
However, if you want the ability to go off-road in areas that are not accessible to regular campers and vehicles but still enjoy some additional comforts of home, look no further than their original model. This model starts at $6,600 and comes with plenty of standard options.
Standard Options
Diamond plate fenders
12v outlet, dual USB ports
LED lights
Storage cabinet 
Galley shelves
Detachable rear table
Two doors
Wheeled tongue jack
Two windows
Depending on what you want to get out of your camping experience with your off-road camper, the standard options may be all you need to be able to rough it.  We have taken the liberty to add some onto a build for those who were curious about what those costs would be (and do not want to take the time to look it up for yourself).
Additional Options
For this article, we decided to customize certain features to determine how that would affect the trailer's final cost.  The breakdown of the options selected and their cost are below:
| Option | Cost |
| --- | --- |
| Spare tire/tongue mount | $175 |
| Queen size mattress | $300 |
| TCT roof rack | $380 |
| Fridge freezer | $947 |
| Foxwing awning | $649 |
| Awning room | $400 |
| Propane bracket and cylinder | $225 |
| 12V rechargeable window/door fan | $65 |
If those options are added, it raises your total price to $9,973, keeping you just outside of the maximum cost of $10,000.  Of course, there are extra available options, like a shower and hot water on demand, but those will raise your overall cost to over $10,000.
Oregon Trailer Do-Drop
The Oregon Trailer Do-Drop can get you wherever you want to go at a very efficient price of $6,150.  The base model does not have much extra, making it perfect for those who want to spend as little money as possible and still camp wherever they like.
Like all the others, the company offers some amenities to add to the off-road camper's basic shell.  If you add all the available options (electric wiring, levelers, shelving, etc.), it will only cost you $1,630, which will keep you well within your total budget of $10,000.
This model will weigh 700 pounds or more fully outfitted, which makes it perfect for towing with almost any vehicle.  Additionally, the camper is 4 feet wide and 7 feet long, making it easier to tow, even in tight spaces.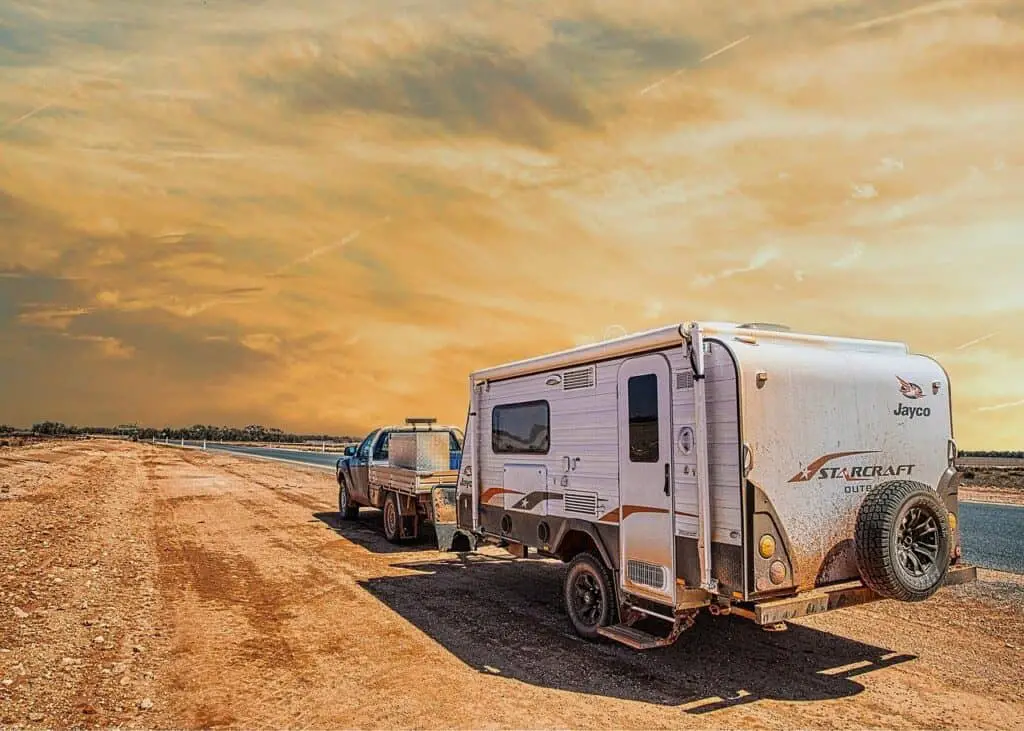 Sylvansport Go
This company has a unique design for their off-road camper, offering a model that is a tent on wheels.  The trailer's base is as you would expect, but the mid-line up is nothing more than an old-fashioned tent.
This camper is designed to drive on any terrain and has the space to sleep up to four people.  The design enables the ability to add a screen room onto the tent itself, which provides a large screen room where you and your family can comfortably relax.
For the introductory price of $9,995, this off-road camper comes with plenty of standard options:
Standard Options
Equipment rack
Tent pod
4 sleeping pads
2 table panels
Gear deck
Tailgate step
Storage box
2-bed panels
4-bed support poles
If you can spend a little more than your budget, $10,995, the company provides everything above as well as:
Spare tire
Rug set
Hanging organizer
Storage net
Camper cover
2 trekking poles
Other Options
In addition to the above options, the company also provides the ability to add additional amenities, which seem to be slightly cheaper than the rest of the companies highlighted here.  For instance, for a total cost of $12,995, the company provides a screen room, breezeway connector, solar kit, camp kitchen, and two single sleeping bags.
The solar option alone is probably worth the extra investment, especially if you plan to stay off the grid for a couple of days.  However, if you are hardcore on your budget constraints of $10,000, the other additions can be added on at a later date.
Conclusion
There are off-road camper trailers available in the price range of $10,000 and under that have good quality and reviews.  Each of the units here all will work for whatever your camping needs may be.   
Please share this article on social media if it helped you along the way in finding the off-road camper trailer that is right for you.
Get a FREE copy of the Go Together Go Far Travel Trailer Hookup and Disconnect Checklist when you sign up for the Go Together Go Far Newsletter!
Featured Image: "Overland Expo 2009" by Nick Taylor via CC BY-SA 4.0