Second Chance to Review
If you're not new to Go Together Go Far, or our YouTube Channel, you'll know that we occasionally do non-RV equipment reviews. We've talked about this Kodiak Canvas Tent on a prior occasion.
When we first started our YouTube Channel, we did a video on how to set it up. It was an early video, and I learned about the video process. This type of canvas tent is very popular, and I thought the topic was worth revisiting.
Links on this page are affiliate links. As an Amazon Associate, I earn from qualifying purchases. If you choose to make a purchase using these links, I will earn a tiny commission that comes at no cost to you but helps me keep providing the content I love to share. I recommend these products because I have found them to be helpful and useful, not because of any commissions I make.
Get a FREE copy of the Go Together Go Far Travel Trailer Hookup and Disconnect Checklist when you sign up for the Go Together Go Far Newsletter!
The opportunity to show this tent presented itself on a group camping trip in July. I didn't want to miss the chance to show this tent in use and not just the setup. We were camping for four days at Moutardier Campground at Nolin Lake. We had a great spot, and we'll review it shortly.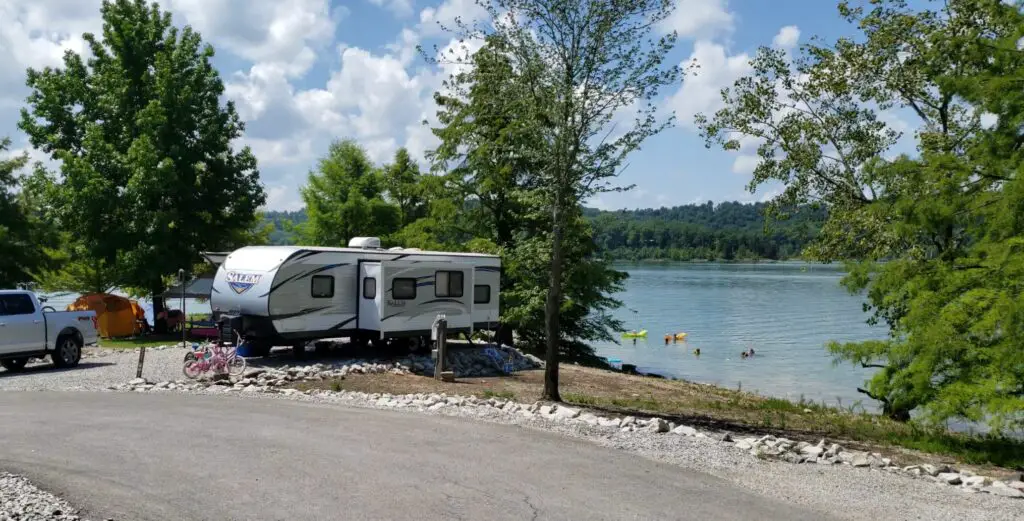 Kodiak Canvas Tent Glamping
If you haven't seen some of our other posts on Glamping, check out this post on the greatest campfire desserts ever!
The significant advantage of this Kodiak Canvas tent is the ability to have two rooms. Like all tents, for example, the most critical place is the sleeping area. Here they were able to set up two inflatable adult mattresses, and kid's cot, AND a dog bed. There was still enough room for storage, fans, and space to walk. Not bad. There was enough headroom to make sure you didn't need to hunch over all the time.
A window unit AC had even been hooked up outside to pump cool air in!
Awning or Kitchen?
As roomy as the sleeping area is, the area under the awning is what made this tent shine. In this setup, the optional sidewalls had been attached to the awning so that it became an enclosed room. Perfect for a camp kitchen.
To complete the camp kitchen, there were a few DIY items added. For instance, there is always an assortment of coolers and DIY food storage containers in the kitchen. In this case, the Kodiak Canvas tent had hooks that allowed pegboard to attach the usually soft walls. The pegboard enables kitchen essentials to hang up and fully utilize the space available. See the picture below.
If you haven't seen the full YouTube video yet, check it out here. It is hard to do the tent justice with just pictures. This Kodiak Canvas tent is a step above other tents I've seen. If you're wanting to break into camping, and are not ready to throw down the cash for an RV, maybe this is an excellent option to get started. Above all, with the right accessories, the tent is just as lovely as almost any camper.
Get a FREE copy of the Go Together Go Far Travel Trailer Hookup and Disconnect Checklist when you sign up for the Go Together Go Far Newsletter!