Campfire Desserts
Ahhhh…  The infamous campfire dessert.  The thing that many of us think of when we think of camping.  Most of us think of that well known and delicious combination of marshmallow, chocolate, and gram cracker known as smores.  That is not your only option.  There are plenty of easy campfire desserts out there. Time to step up the campfire dessert game!
These are wonderfully easy campfire desserts. Check out the YouTube Video here.  Who doesn't love campfire snacks and campfire treats? If you like easy camping recipes, you'll want to try these next time you're camping with kids (or RVing with kids). Smores are always a great option, but step up your campfire cooking game with these on your next RV campground trip. 
Get a FREE copy of the Go Together Go Far Travel Trailer Hookup and Disconnect Checklist when you sign up for the Go Together Go Far Newsletter!
Campfire Cones
Start with a sugar ice cream cone.  

Add your combination of small marshmallows, chocolate, and caramel. 

Wrap in aluminum foil.

Place in hot coals for just a couple of minutes.
These can burn if you leave them too long, so keep an eye on them.  The marshmallows don't typically toast up, but everything melts together in ooey-gooey campfire deliciousness.  
Baked Campfire Apples
Core a few good-sized apples, but leave whole if you can.  If you have to slice them, that can work too.

Add brown sugar, butter, and cinnamon. 

Add optional extras like pecans, marshmallows, raisins, or caramel.

Wrap in aluminum foil.

Place on a rack to back for 30-60 minutes, depending on the size of the apple and fire.  The apples will soften as they finish. 

Unwrap and slice to serve.  Add a little whipped cream for a special bonus.
Enjoy!
Roasted Marshmallow Strawberries
Start with fresh strawberries. 

Add marshmallow fluff.

Roast over the campfire.
This one sounds a little silly, but trust me, it's delicious. Maybe a little healthier than a smores too! The marshmallow fluff goes from browned to burned a little quicker than regular marshmallows, so be careful. We made this recipe on our camping trip to Nolin Lake. See that post here.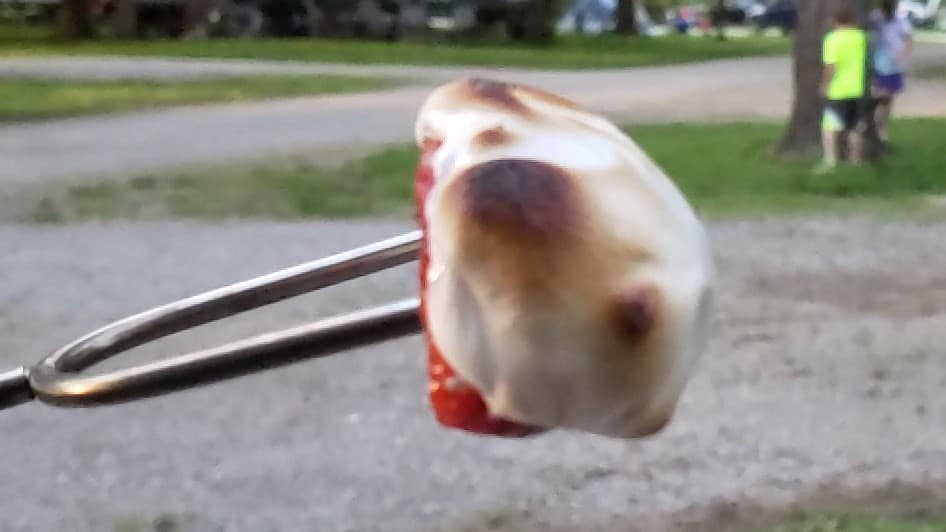 Cinnamon Apple Pies
Butter two slices of cinnamon bread.

Add them to a campfire pie iron.

Add a couple of scoops of apple pie filling.

Cook over the campfire for a couple of minutes, flipping regularly.
Check it regularly for progress.  Once browned, slice, and serve. Enjoy!
For those that noticed in the video, I said five easy campfire desserts in the opening, but only showed four, good catch!  I had to cut one due to time constraints. I had intended to make chocolate brownies in an orange. I've seen this online before but never had the opportunity to make it. 
Chocolate Orange Brownie
Slice the top off of a good-sized orange.
Scoop out the insides leaving a hollow orange peel.
Mix up some store-bought brownie mix.
Fill the orange with the mix and put the cap back on.
Wrap in aluminum foil and bake over the fire.
Cooking times will depend on the heat of the fire and how the oranges sit in the coals.  It should give a great chocolate brownie with a sweet orange flavor.  Great for camping!
Overall
All of these were excellent campfire desserts for the Twin Terrors and us.  The one that supposed us the most was the Roasted Marshmallow Strawberries.  I know that sounds crazy, but they were effortless to make and gave a fantastic unique flavor.  All the options were good, but the strawberries were the dessert that we will make a regular item on our next RV adventure. 
Tell me in the comments what campfire desserts you have with your family.
Get a FREE copy of the Go Together Go Far Travel Trailer Hookup and Disconnect Checklist when you sign up for the Go Together Go Far Newsletter!