How do you decide which travel trailer to buy?  Each bunkhouse offered for sale has its pros and cons. 
If you follow, Go Together Go Far here or on our YouTube channel, you might know we have a bunkhouse travel trailer. Our is a little over 30 feet, so it didn't make this list.
So, how do you determine what bunkhouse travel trailer is right for you and your family?
Several different viable bunkhouse travel trailers under 30 feet available will not break the bank.  Quality bunkhouses from Jayco, Keystone, and Forest River are all reasonably priced and have reasonable amenities.  The question comes down to what exactly you want to spend.
Deciding on a bunkhouse is not a decision that should be made lightly as it is a financial investment and an investment in your family.  Knowing what the options are available and what people have learned from personal experience is better than reading a blog from someone who just read reviews.
Bunkhouse Travel Trailer Under 30 Feet Top Picks
The top picks were selected by a few different factors, cost, length, and amenities.  The campers' consumer reviews were also considered, but not a deciding factor, which will be explained later.
| Make/Model | Length | MSRP |
| --- | --- | --- |
| Jay Flight SLX 224 BH | 27'7 | $22,013 |
| Cruiser Aire CR22BBH | 26'11 | $27,534 |
| X-Lite Travel Trailer 240BHXL | 28'10 | $32,551 |
Jayco Jay Flight SLX 224 BH
The first thing noted on this model is that it has a slide that expands the bunkhouse's dining area.  This is key because it provides additional room to walk around in the common area, and that space is needed when you are cooking indoors.
Additionally, the Jay Flight SLX 224 BH bunkhouse comes with pleated shades, which typically work better than basic blinds.  Basic blinds work fine, but they become brittle and break over time, not to mention the kids and pets love to play with the strings.  
Additionally, the camper has a power awning with LED lights, speakers, and exterior LED lighting.  LED lighting makes for a pleasant ambiance during evening hours while you and the family sit on a bench at the campsite enjoying the outside.  
This unit also has a tub installed instead of just a shower.  This may be a more viable option for those of you with smaller kids instead of trying to get your children clean in a shower and water getting everywhere.
Keystone Cruiser Aire CR22BBH
Keystone is a well-known brand that has been around for many years and produces quality products.  With this particular model, you get a few extra feet in length and more amenities.  
The Cruiser Aire CR22BBH bunkhouse comes with an LED television (mind you, it will not be large) as well as a 15,000 BTU air conditioner.  The refrigerator is also larger (8 cubic feet) and comes with electric stabilizer jacks, which will make your job easier upon setting up and breaking down the campsite.  
Additionally, this unit has an outside kitchen, which would be great for anyone with children.  What the outside kitchen does for you, besides cooking outside, is to keep your children outside of the camper for the majority of the day.  Gone are the reasons to walk inside just to 'get a drink.'  The less your children are inside the camper, the less you will have to clean…
This camper comes with a power awning and a slide-out, increasing the space in the dining area.  There are a tub and a shower combination, making it easier to clean and bathe any children you are taking along for the ride.
Forest River X-Lite Travel Trailer 240BHXL
The Forest River company has been around for many years and is also known for its quality products.  The design of this one allows for the dining area to slide out, providing more room in the kitchen/living area.  
The U-shaped dining table allows more people to sit at the table and either eat meals or play games when there is inclement weather.  Additionally, the X-Lite Travel Trailer 240BHXL has a walk-in pantry, provided for dry food products, and an oversized refrigerator.  
While oversized refrigerators are not necessary for camping, they certainly make storing cold foods and drink a lot easier.  If this is an option on the travel trailer you want to move forward with and it fits in your price range, jump on it.
This model has a door for the master bedroom, which can be closed to allow the adults privacy from the children who will be sleeping on their bunk beds in the back.  The bathroom also has a tub, which allows for easier cleaning of the children after a day of playing outside.
Making the List
Several different blogs and websites offer their opinions on which travel trailers are the best.  Some of their selections come from customer reviews regarding experiences that people have taken the time to notate online.    
While customer reviews of companies are helpful, they are not everything.  Often, the only time someone will give a product review is not when they are happy, but rather when something has gone wrong.  Customer reviews should be considered, but reviews from people you know with personal experience with the bunkhouse should take precedence.  
Each of these brands mentioned here has been around for a long time and has plenty of satisfied customers.  Each also has quality designs with comfort and practicality in mind.
The campers on this list were chosen because of the company that produced them, the trailers' design and layout, and the must-have amenities for the price.  Additionally, the brands listed have all been owned by people we know personally who gave glowing recommendations.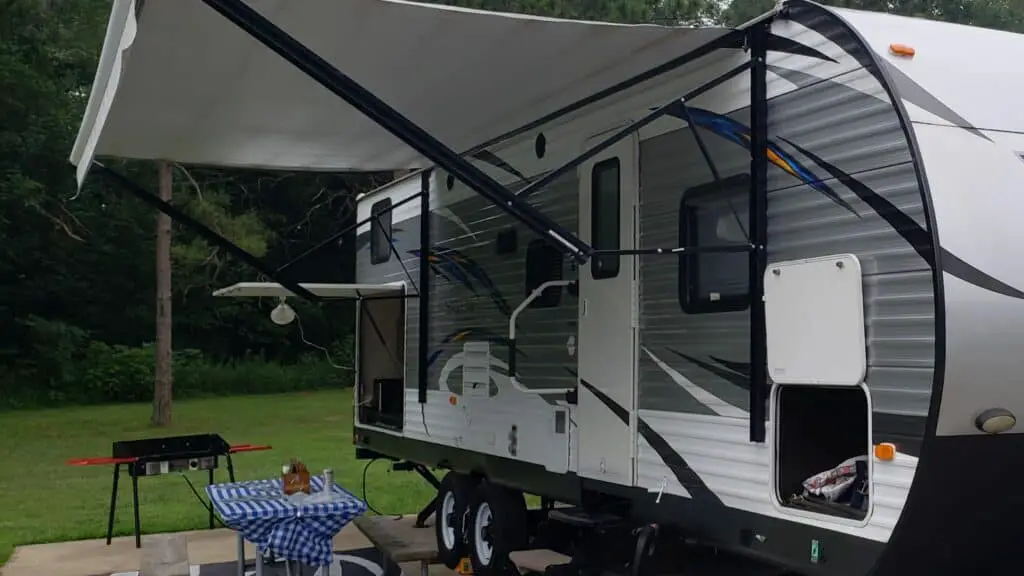 Considerations
For those of you that are new to the camping world, there are a few things that you should understand before making a purchase.  
Before you buy:
Consider buying new
Storage
Have the unit inspected before the sale
Options
Consider Buying New
Buy new…unless you trust the person you are buying a used item from, and that includes dealerships.  This is suggested because you have no way of knowing how the previous owner maintained the travel trailer.
Few people in this world properly maintain anything, let alone something like a travel trailer.  Annual maintenance needs to be done to ensure no leaks form and make sure everything is in proper working order.
This includes the roof, windows, axles, brakes, and wheel bearings.  The last thing you want to happen is to purchase a travel trailer and learn that there had been a water leak and the back, and now you are on the hook with a costly repair due to the damage caused.
Inspect Travel Trailer
Whenever you are ready to purchase a travel trailer, do yourself a favor and hire a professional to inspect the unit for any damage.  This holds regardless if the trailer is brand new or used and a private sale.
If the seller refuses the inspection, move on to another travel trailer. There is a reason they are saying no.  Someone who has maintained their travel trailer will not balk at any third party coming in to do the inspection.  
The reason why it is suggested to do the same with a brand-new trailer is that, like all things, who knows if the builders were having a bad day when that camper was built.  It is not unusual for certain things to not be done correctly, and that may not be found out until after the warranty has expired.  
While most reputable companies will not take issue with having an independent inspector come in, others might.  Do yourself a favor and walk away from the dealership if that is the case.
Options
As stated above, numerous luxuries are available in almost every travel trailer that you purchase.  If you have extra spending money, do not worry about it. Get what you want to make your trips easier and more memorable.  
However, if money is a concern, stick to what is only necessary, especially if purchasing a travel trailer from a dealership.  Things like televisions will be much cheaper if you buy them at a department store instead of having one added at the dealership, and they will work the same.
The only two things that we find necessary are a slide-out and the power awning.  Other things like an outside kitchen, outside shower, multiple doors, etc., make things easier, but they are not necessary to start your RVing journey.
You can tour our Salem Bunkhouse below:
Bunkhouse Travel Trailer Basics
Before you can start narrowing your choices, you need to precisely know how much weight the vehicle you will be towing with can handle.  This is often overlooked until after getting close to completing a deal and is an important step not to overlook.
Each vehicle that is capable of towing has a maximum towing weight that should never be exceeded.  Each vehicle varies, so you must know exactly what that limit is before falling in love with a particular bunkhouse that may weigh too much for your vehicle.
If you do not know your towing capacity, it can be located either online or by calling the nearest dealer for the brand you own.  If you call the local dealer, ask for the service or parts department and provide them with your VIN.  They will be able to tell you precisely what your towing capacity is provided there have been no modifications made to the tow vehicle.
After you know what weight your vehicle can handle, all that is left to do is determine the size of the bunkhouse you want and what options you need.
Length
If you have an average-sized family, a bunkhouse in the range of twenty to thirty feet would be a right size for the family.  Something under thirty feet is also easier to tow and back into spots than something that is over thirty feet.
Many people believe that longer trailers are better, which is not the case.  All a longer trailer does is provide more room and a bigger headache while you are driving down the road and trying to back into campsites if there is not a pull-through available.
If you have little to no experience in towing, a bunkhouse around twenty feet in length will be the better option.  It will take several trips before you start to feel comfortable with towing the trailer.  
Amenities 
After deciding on an approximate length that you want for yourself and your family, start considering the amenities that you need for camping.  Keep in mind that you can have as much or as little as you want, but the more you have, the greater the price will be for the bunkhouse.  Some options are listed below:
| | |
| --- | --- |
| Slide Outs | Outside Shower |
| Tub | Refrigerator Size |
| Satellite Television | Outside Speakers |
| Outside Kitchen | Bumper Grill |
| Oven | Blue Tooth |
| Outside Television | Multiple Entry Doors |
| Automatic Leveler | Floor Plan |
| Power Awning | Power Jacks |
Recommendations
There are numerous options and luxuries that you can have installed when it comes to purchasing a bunkhouse.  Some amenities make it more comfortable for a family, like an outside kitchen and shower.  
Those options are great because you can cook, feed, and get the kids drinks, all without them having to set foot inside the bunkhouse.  This is especially important at a campsite that is nothing but gravel on the outside because it limits the amount of dirt and gravel tracked inside.
Outside showers and kitchens are great, but they simply are not what we would term a necessity.  That is because you can still enjoy your family trips and bonding without them. They are a want and not a need.
If staying in your budget is essential, then take those off the list and stick with a couple of others that we believe are necessary.
Slide Outs
Anyone who has spent any time inside a bunkhouse without slide-outs can tell you that space is very limited.  If you are going to invest in a bunkhouse, investing in one with a slide-out or two would be the best bet.
Slide-outs expand the room in which they are located to provide extra space and comfort in the bunkhouse.  Most slide-outs are either in a bedroom or dining area and make those areas feel more like a hotel room or home than in a trailer.  
Power Awning
The next 'must-have' item for a bunkhouse is a power awning.  Most campers come with them already if you are purchasing them new, and if they do not, look for one that does.  
Manual awnings are a pain to extend and put back while they are being used almost every time without fail.  This is especially true in circumstances when an unexpected rainstorm brews up near your campsite, and you are struggling with getting the awning in without losing it.
When you consider the cost of what it is to have a power awning versus the headache you will undoubtedly have without one, you will see that it is well worth the price.
Air Conditioning 
Most campers now have a thermostat-controlled air conditioning unit installed on the roof of the trailer.  However, most air conditioning units come in lower capacity, making it harder to cool the unit during the summertime in areas prone to high heat.
If you will invest in a travel trailer, something that you hopefully will have for a long time, take the time to invest in a larger air conditioning unit—something like a 13,500 BTU unit at minimum to a 15,000 BTU unit being preferred.
Those that believe that they may not need the larger air conditioner have not tried to cool down a travel trailer after hours of driving in Texas or Florida during the summer.  The first thing you need is for the inside of the bunkhouse to be cool when everything has been deployed and set up.
Other Options
There are many other available options, which are nice to have but not needed when camping.  If budget is an issue when selecting the right bunkhouse under thirty feet, you can safely pass on any other option and get the maximum enjoyment out of your camping trips.
Conclusion
Going camping is a great way to spend time with family and friends while making lifelong memories.  For those with children, the best way to do that is by purchasing a bunkhouse that provides a good strong bed that is out of the way for them.
While there are many options available, stick to what you need for a bunkhouse under thirty feet.  Sticking to what you need will keep the price range down, necessary for those with a budget. 
Don't forget to check out our Recommended RV Equipment list!
Get a FREE copy of the Go Together Go Far Travel Trailer Hookup and Disconnect Checklist when you sign up for the Go Together Go Far Newsletter!