Trying to find the best portable air conditioner for camping for 2022 is a little bit of an uphill battle if only because the market for RV camping air-conditioners isn't quite as big as the one for traditional AC units is.
Luckily, though, with the inside information in this detailed guide, you'll be able to get your hands on the perfect portable air conditioner for your next camping excursion.
Let's jump right in!
The Best Portable Air Conditioner for Camping for 2022 Buying Guide
Finding the right portable air conditioner for camping really comes down to a handful of key factors, especially if this AC unit is going to live (permanently or part-time) in your RV or camper.
Here are the features that you really need your new AC unit to knock right out of the park!
Power Supply
Straight out of the gate, your new AC unit is only going to be helpful if you can actually power it on.
It needs to draw power from your RV electrical system without totally draining the battery and should be as energy-efficient as possible.
Cooling Capabilities
Secondly, you need a cooling system capable of cooling things down.
If your new RV portable AC unit is only bringing the temperature down a couple of degrees, all while chewing up a tremendous amount of energy to pull that off, it's not that useful.
Look for a unit rated for the space you're looking to cool as well as an option that has an excellent reputation for producing ice-cold temperatures almost on demand.
Noise Level
RVs and campers are ready tight inside, and there's not a lot of room for sound and noise to hide.
If you choose an air conditioner that is loud, the odds are pretty good you'll have a tough time sleeping, especially if you're trying to keep your space cool during the nighttime.
Find an RV/portable AC unit that runs almost silently (or as close as possible to near-silent), and you'll be good to go.
Reliability
Reliability is a big piece of the puzzle for this purchase (for obvious reasons).
Few things are more stressful than your AC unit falling apart halfway through a backwoods adventure, especially if you know that you aren't going to be anywhere near town anytime soon – and won't have any way to replace things.
Reliability, ease of repair, and almost effortless maintenance should be pretty high on your buying priority list.
Portability
Portability is something you don't want to forget about, either.
You want something large enough to cool your space down, but also something compact enough to tuck away when you aren't using it.
This can be a real tight rope to walk, but finding that perfect balance between size, capability, capacity, and compact form factor is essential.
Square all of these things away before you hunt for a new portable air conditioner for camping, though, and you won't have anything to worry about!
Don't forget to check out our Recommended RV Equipment list!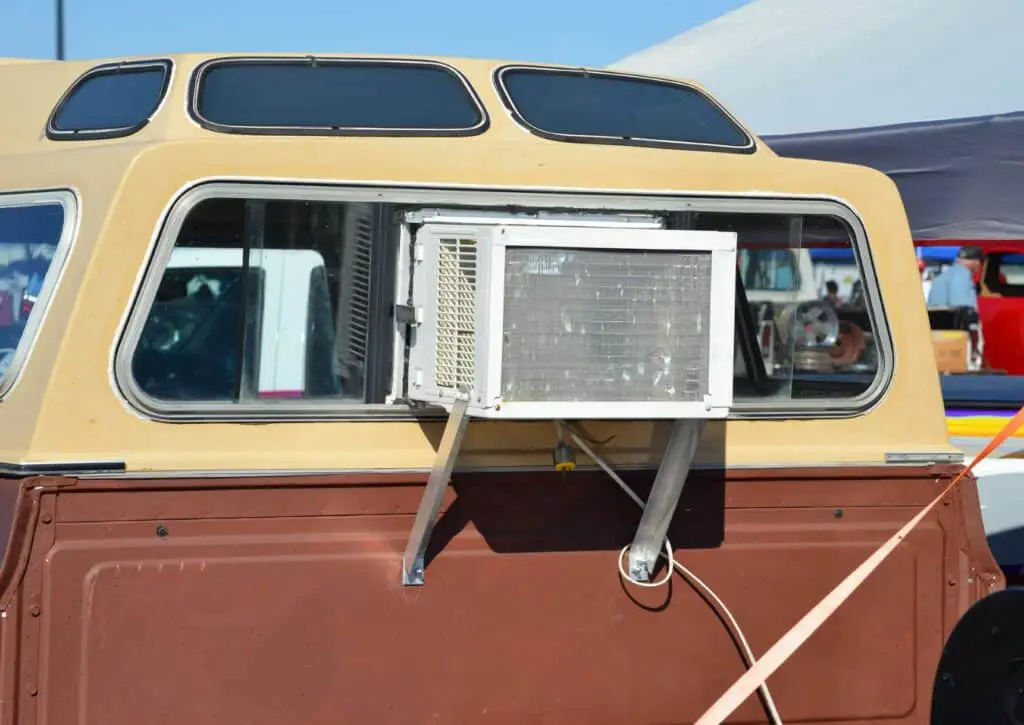 Our Favorite Portable Air Conditioner for Camping Options
This might be the ultimate camping/RV portable air conditioner on the market today.
A relatively compact unit, it isn't going to take up a lot of space inside of your RV or your camper. It also isn't going to make a lot of noise, either.
At the same time, though, this smaller unit can knock out 10,000 BTU of ice-cold air consistently – cooling down spaces of up to 250 ft.² with no real trouble at all.
Variable fan speeds, sleep mode, and an energy-efficient power system all make this a really attractive option for RV campers.
Those who want to guarantee they never run out of battery while camping will fall in love with this Frigidaire Cool Connect Smart window AC unit.
100% Energy Star certified (with a 12.0 energy efficiency ratio), you won't ever have to worry about running your batteries low in the RV when this unit has been installed.
Compact, quiet, and capable, this unit puts out a tremendous amount of cold air with its 10,000 BTU AC system. Because of the extra efficiencies built into this unit, though, it's able to stretch its cooling power to upwards of 450 ft.² (almost double the Black and Decker option mentioned earlier).
You will have to sacrifice one of your RV windows to install this unit, though. That's a trade-off most people are more than willing to make, especially since they save a lot of extra valuable real estate by sticking this unit in the window.
Maybe you are on the hunt for absolute ice-cold RV temperatures in the middle of the summer, though.
If that's the case – you want real, frigid air pumping through your RV on demand at all times – the Homelabs option is the only way to go.
Capable of cooling spaces of between 450 ft.² and 600 ft.² (thanks to the 14,000 BTU cooling system), it's not hard to drop the temperatures in small, midsize, and even large RVs and campers almost right away.
The system also has a built-in dehumidifier that is a game-changer for those in humid weather. Cooling your space down is one thing, but trying to sleep in a cold and humid space is a nightmare, too.
This unit eliminates those problems!
The great thing about this portable air conditioning unit for RV campers is that it does double duty, operating as both an air conditioning system and a central fan system to improve airflow throughout your interior space.
The oscillating fan circulates air evenly across your RV, dispersing and distributing the cooled air to keep things nice and consistent across the board. You won't have to worry about hotspots, cold spots, or uneven temperature zones any longer.
You can also operate this unit as a fan, dehumidifier, or AC unit only – or as all three things all at once!
Possibly the sleekest and most stylish of all the portable AC units we've broken down in this detailed guide, this is not just a pretty face of an air conditioner – it's also quite powerful.
Ideally engineered for RVs and campers that are 40 feet long or longer, you'll be able to cool down spaces of 500 ft.² (or slightly more) with no extra effort. Smaller RVs and campers can cool down even faster and use less energy, too.
As far as dehumidification is concerned, it's not hard to wring water out of the air with this top-shelf unit. You can remove up to 101 pints of water from your RV interior every 24 hours when this unit has been flipped into dehumidification mode.
All in all, you really can't go wrong with any of the top portable air conditioning units for camping for 2022 that we highlighted above!
Don't forget to check out our Recommended RV Equipment list!