Buying a travel trailer is more than just looking at different options and making your decision.  You need to make sure that what you are buying will fit your family and provide enough space to enjoy your vacation, even in inclement weather.  But how do you know for sure which travel trailer is the best for a typical family of four?
The best travel trailer for a family of four will be a bunkhouse of about 30 feet. Ideally, they will be half-ton towable but may need a 3/4 ton truck. Any top brands, Jayco, Forest River, or Keystone, will be suitable options while keeping the overall expense down.
Travel Trailer Considerations
Most people look solely at customer reviews to decide which travel trailers to put on a list like this.  While customer reviews have merit, they should not be the sole deciding factor for which travel trailer makes the list.
Customer reviews are great, but they must only be considered why most of them were generated in the first place.  Often, people only take time out of their day to write a review when they have had a negative experience with a product.
That means that those who are more than satisfied with the same product may never voice their opinions other than those they know.  So, a perfectly viable option may look like something you do not want if you only stick to customer reviews as your sole deciding factor.
Take time to review the company and then find people who own the same travel trailer and ask them what they think.  If most people all speak negatively, then you may want to pass.  However, as in this case, if most people that you know speak positively regardless of the customer reviews, then the travel trailer may be worth considering.
These are not the only great RV brands out there. Check out "Top RV Brands: What Are the Best Names in the RV Industry?"
Top Family Travel Trailers
The travel trailers that made it into this list were done after careful review of the companies, customer reviews, and, most importantly, personal experiences.  We spoke to people who have owned these actual travel trailers, and all gave glowing reviews.
| Make | Length | MSRP |
| --- | --- | --- |
| Jayco Jay Flight SLX 267BHS | 30'2″ | $33,003 |
| Wildwood X-Lite 263BHXL | 31'5″ | $31,526 |
| Keystone Passport 268BH | 30′ | $33,589 |
Jayco Jay Flight 267BHS
Jayco, Incorporated was founded in 1968 and produced quality travel trailers since it was first incorporated.  The quality and amenities did not stop with this 267BHS, which is the perfect size for your family of four at just over thirty feet.
This travel trailer comfortably sleeps nine people, making it perfect for the average-sized family and a couple of friends your children always want to bring.  This unit has a large entertainment area and one slide, which increases the living and kitchen area's width.
This bunkhouse includes an outside kitchen.  The sink, cooktop, and outside refrigerator come out from underneath the bunk beds to the outside. This provides the family an opportunity to limit any messes from cooking outside of the bunkhouse. We love how helpful our outside kitchen has been.
These options include a power awning, and this bunkhouse has a dry weight of 5,870 pounds.  That means that most trucks and SUVs will be able to tow this bunkhouse without any modifications.
We think this floorplan is one of the best out there. When we purchased our Salem bunkhouse, we were also looking at another bunkhouse with this floorplan. Ultimately, the price was the deciding factor at that point. Our next trailer will have this same bunkhouse floorplan.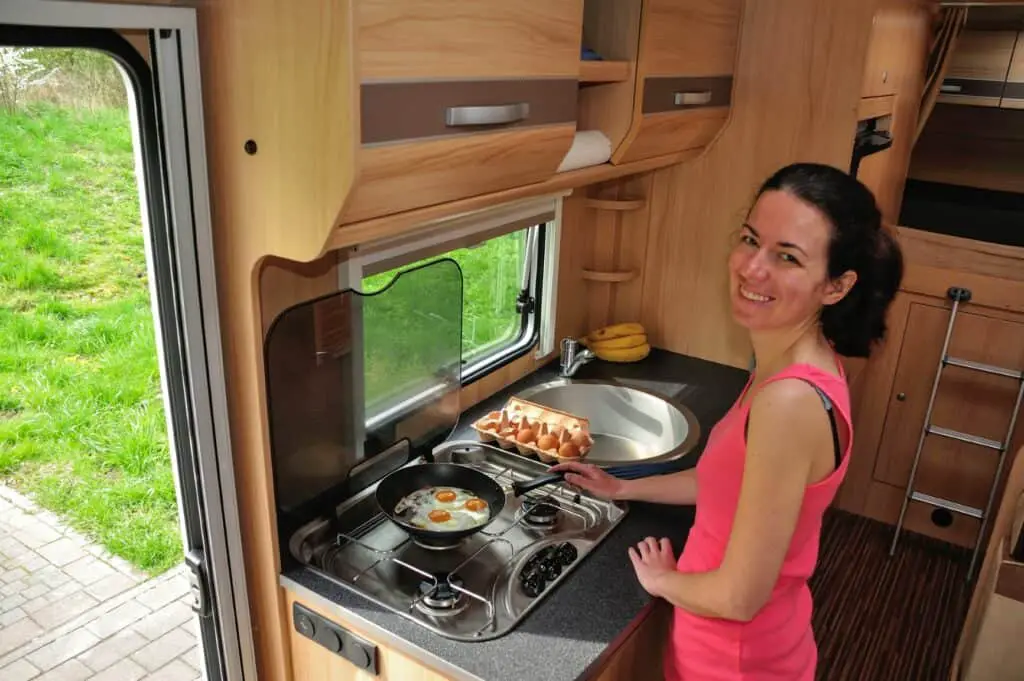 Forest River Wildwood X-Lite 263BHXL
Forest River was incorporated in 1996 and was originally founded in Elkhart, Indiana.  Forest River is so well respected that some of their customers have started a group that satisfied owners camp and share experiences known as FROG (Forest River Owners Group).
This bunkhouse is just over thirty-one feet long, but amazingly only has a dry weight of 5,854 pounds.  Again, the lighter the weight, the easier it is to tow, and the better it will be on gas mileage.  
The travel trailer has ducted air conditioning and an exterior kitchen situated comfortably under the power awning around the middle of the unit.  The camper sleeps nine, so if your children do what most do and invite family or friends to go camping with you, know that you have the flexibility to allow more people to stay if you desire.
However, if you want to keep just your family of four, the extra space provided by the slide-out affords plenty of room inside for days that you have been stuck indoors thanks to the weather.  At nighttime, or anytime parents decide they want privacy, it is possible with this bunkhouse as there is a door for the master bedroom.
Keystone Passport 268BH
Keystone was founded in 1996 and has grown to have over a million people who own one of their travel trailers.  Their pursuit for quality and affordable options did not stop at their Passport 268BH, which provides plenty of space for a family of four.
The slide-out opens up the bunkhouse's living and kitchen area to a walkable and usable space, even when everyone is stuck inside.  The unit also sleeps nine people, so, again, you either have options to allow more people to stay with you or simply enjoy the extra room on your family vacations.
This bunkhouse is equipped with electric stabilizer jacks and an outside kitchen.  The outside kitchen, of course, allows for keeping food, drinks, and the kids outside on good days.  Additionally, the outdoor kitchen is situated at the rear of the bunkhouse, but nicely underneath the large power awning.
The master bedroom also has a door that can be closed to provide the adults with some extra privacy during the nighttime.  The price for what you get on this camper compared to the others should undoubtedly make you consider this brand while searching for your next travel trailer.
Don't forget to check out our Recommended RV Equipment list!
Bunkhouse Length Considerations
In researching this list, one of the biggest things considered was the travel trailer's overall length.  Whereas you can get away with a smaller travel trailer if you have a family of four, the longer it is (within reason), the more space you will have.
If you're uncomfortable with a bunkhouse in this 30-foot range, check out "Best Bunkhouse Travel Trailer Under 30 Feet."
The last thing that you want to do is purchase a travel trailer that is too small for your family.  Buying a travel trailer that only sleeps four would be a mistake on several fronts.
Your family could be one that tends to spend a lot of time together, and you may want the option of having more people stay with you on your trip.  Or your children could be like most and want a cousin or friend to come along for the ride, and if your travel trailer only sleeps four, that makes that difficult.
Even if that is not the case, having an extra five feet means all the difference in the world, especially on days when the family is stuck inside because of rain.  Take our advice. The price difference is not enough to keep you in a smaller travel trailer.
This is precisely what happened to us when we upgraded from our 18-foot Winni Drop bunkhouse.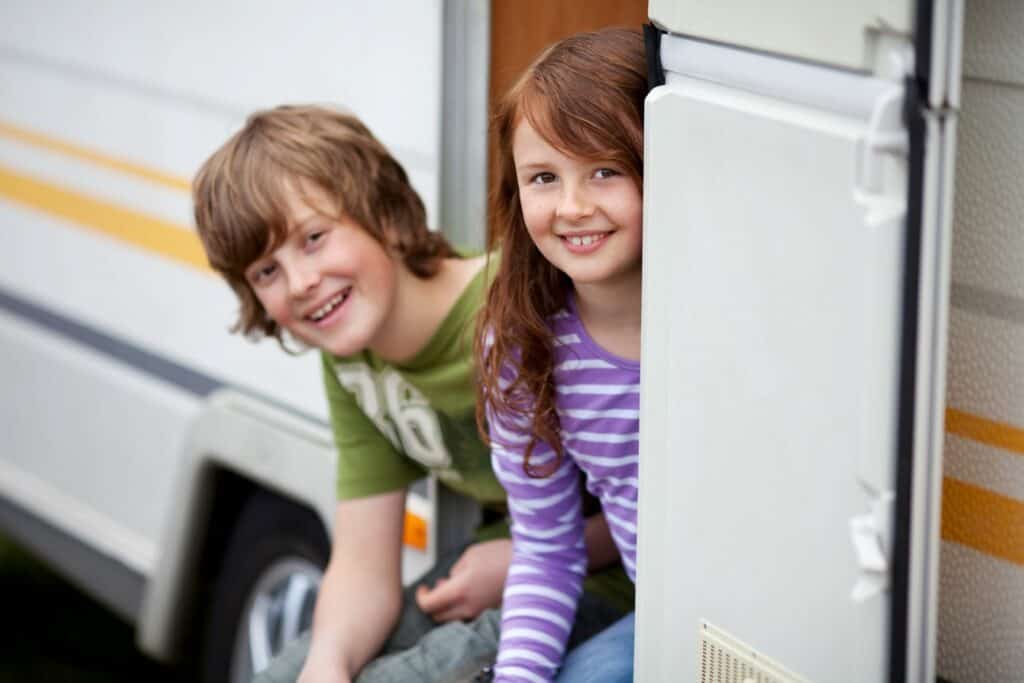 Travel Trailer Selection Tips
When you have narrowed down your choices about which travel trailer to buy for your family of four, do a few things before you sign on the dotted line.
Stand in the shower/tub
Bring the entire family into the unit
Consider power jack
Stand in the Shower or Tub
While this may sound odd, some travel trailer companies do not adequately support the pan in the shower or tub.  This will not be noticed unless you stand inside of it.
If you feel like you are sagging when you stand in it, there is not enough support built into it.  That does not necessarily mean you should pass on the deal, but that should get you to talk to the dealer to see what options they have at increasing the support.
If the dealer refuses or if you are one who likes to do things yourself, there are plenty of inexpensive options available for doing the job yourself.
Bring Family In
Bring your entire family into the unit at one time.  Take time to walk around and spend time in the unit to determine if whatever size you have chosen is the right one for you.
As noted above, a few extra feet can make all the difference in the world when you are stuck inside.  Ensure that the length you pick is something that you will be comfortable with for a long time. 
Consider Power Jack
Unless you are spending a lot of money on a travel trailer, it might not come with a power jack.  If you do not have a power jack, getting the camper set up and broken down after trips will take longer as you are cranking the travel trailer's weight by hand. 
Our first trailer was a manual jack, and I hated it. 
The power jack not only enables movement to be quicker, but it also saves your back and energy from having to move the weight by hand.  Do yourself a favor and see if a power jack can be added to the deal before you sign on the dotted line.  
Conclusion
The information listed in this article has come from online research and personal experiences real people have had with these products.  Each of the travel trailers listed will be perfect for any family of four and add to any positive camping experiences you will have with your family over time.  
If you're still undecided about the best travel trailer for your family, maybe read "Are One Way RV Rentals Worth It?"
If this article provided any help in making your decision easier, please share this article on social media.
Don't forget to check out our Recommended RV Equipment list!
Get a FREE copy of the Go Together Go Far Travel Trailer Hookup and Disconnect Checklist when you sign up for the Go Together Go Far Newsletter!