Lithium batteries are the pinnacle of leisure, RV, and solar batteries today—primarily because of their longevity and efficiency. But even amongst the best, there has to be the best Lithium Iron Phosphate Battery, otherwise known as LiFePO4 batteries. 
You'll have to pay a premium price if you want one for your RV, but what you get will be a far better long-term investment than going with another type of battery, such as an alkaline battery. LiFePO4 batteries can easily last between 3,000 and 5,000 cycles before you have to start considering a replacement. 
They also charge faster and provide 80% or higher of their charge capacity, whereas other batteries may give you 60% to 80%, the latter on a really good day. The average lead-acid battery will last up to five years, while a LiFePO4 can easily last over a decade. 
Don't forget to check out our Recommended RV Equipment list!
Best LiFePO4 Battery for Your RV
However, not every LiFePO4 battery is worth the exorbitant price, so we cherry-picked the best of the best available on the market right now, so you don't end up with something that will ruin your opinion on LiFePO4 batteries.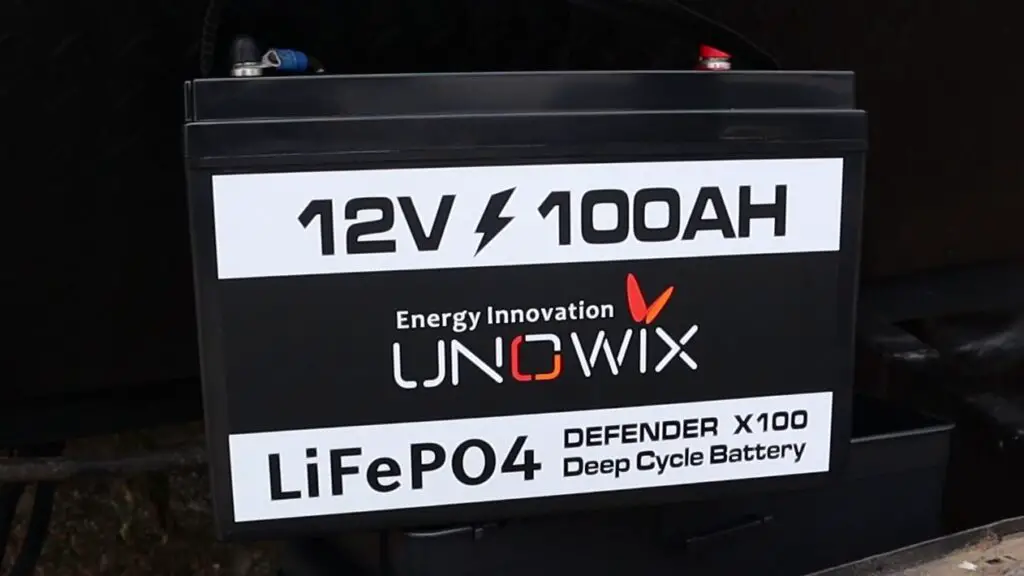 The Unowix Defender X100 is considered a budget battery; however, "budget" doesn't mean bad in any use of the word. The X100 has a 1280Wh energy capacity, with 100Ah rated capacity. As a 12.8v LiFePO4 battery, it matches most of the market in this category. 
This is the LiFePO4 battery I use.  Use Referral Code "F1DF26".
Or check the Amazon price here.
It exists in the upper range of what we consider a budget battery, but the best news is that it comes with a 10-year warranty, which is twice the amount of most LiFePO4 batteries.
Features
Cold temperature charge protection
10-year warranty
Excellent price
Short circuit protection
Automatic cell balancing
Built-in battery management system
High/low voltage and temperature protection
100A continuous current
Like most LiFePO4 batteries, it is very lightweight, which is a massive benefit to RV owners because lugging a heavy, alkaline battery around or placing it in a difficult-to-reach place can be a pain. 
In most review cases for the X100, the battery has met or exceeded its parameters on all occasions, so it's a reliable battery over the short and the long term. Not bad for a relative newcomer out of California. 
As a LiFePO4 battery, the X100 is a safe and efficient battery. In fact, these batteries are considered far safer than their counterparts, and the X100 is no exception to the rule. Like most LiFePO4 batteries, however, it does come with some caveats. 
They are usually priced much higher than alternatives, even though the X100 is reasonably priced, especially considering what it offers. Because of its cycle depth of 80%, the X100 doesn't have much reserve capacity, which is expected in a LiFePO4 battery. 
Pros
Cons
1. A lot of hardware under the hood
2. Very long warranty
3. Priced reasonably
4. Built-in battery management system
5. High/low voltage and temp protection
1. Sensitive to power surges
2. Low reserve capacity
A fitting name for a battery that matches it in every facet. The Battle Born is a 31lb battery with 4 cells and 12V. This battery frequently makes the top ten and top five lists for best LiFePO4 batteries. It is extremely popular and commands a premium price to go with it. 
At 31lbs, it's a bit heavy for a LiFePO4 battery, but functionality-wise, it more than makes up for its weight. It has a continuous current of 100Ah with a surge current of 200aH with automatic cell balance. 
Features
Built-in battery management system
12V, 24V, 36V, and 48V systems
Automatic cell balance
Designed to work in a series
Works exceptionally well with solar hook-ups
High/low voltage and temperature protection
Short circuit protection
If you are pro-renewable energy, the Battle Born battery is right up your alley. It is wholly manufactured from non-toxic, renewable materials, none of which reduces the battery's functionality to any degree.
It has a 5 times faster-charging rate than other comparable batteries and even more so than alkaline ones. Like the Unowix Defender X100, the Battle Born comes with a ten-year warranty, which is exceptional within the industry. 
Unfortunately, it also means that you will pay a premium price tag with the Battle Born. The pricing can fluctuate, so click here for the current price on Amazon.  Thankfully, you're getting an outstanding battery with 100% depth of discharge, and that is almost entirely maintenance-free. 
If you decide to purchase more of the Battel Born line of products, it's easy to convert the Battle Born batteries into smart batteries that are far more simple and intuitive to operate and use within the system you choose to set up. 
Battle Born LiFePO4 batteries are designed to work in a series, and though you can use it as a singular battery, it reaches its full capabilities with other batteries. Unfortunately, that means that it might not be for everyone, especially those who just want a single, deep-cycle battery. 
Pros
Cons
1. 100% depth of discharge
2. 10-year warranty
3. Multiple systems
4. High/low voltage and temp protection
5. Short Circuit protection
6. Automatic cell balance
1. 31lbs is on the heavy side
2. Works best in a series
3. Very expensive
Renogy is an old and respected name in the business, and its batteries are highly valued and trusted products. One of their best in recent years is their LiFePO4 Smart Battery, which endeavors to bring the smart features growing in homes across the US to a deep cycle battery. 
Fortunately, Renogy did an outstanding job merging the two technologies. Regarding pricing, this particular Renogy is all over the place. You'll need to see the current pricing on Amazon here.
Features
Smart Lithium with Bluetooth Technology
Fast charging speed
Automated battery management system
Dual processors control short circuit protection systems
High-efficiency dual processors 
Automated cell balance
Over temperature protection
Auto balancing for series connections
Even though it is a smart battery, Renogy keeps it simple and lightweight with their design implementations. The Renogy looks just like any other deep cycle battery. It comes with a communication port, thanks to its built-in smart features so that you can connect your smart devices. 
It also comes with a link port for running it in a series. This Renogy can self-balance in a series, so it's highly dependable when you need to run more than one battery but remains effective on its own.
The Renogy is positively crammed with smart tech and built-in management systems for self-efficiency. It also maintains its self-balancing even while rapidly charging it, and this battery does charge fast. 
Pros
Cons
1. High useability smart LiFePO4 battery
2. Multiple connection ports
3. Self-balancing in a series
4. Multiple automated self-protection features
5. Lightweight at 26lbs
6. Runs well on its own or in a series
1. Price ranges are all over the place
2. Smart tech may not be for everybody
This is easily the smallest and cheapest LiFePO4 battery on our list. Although it is meant for smaller RVs, it deserves a place here for its outstanding reliability, longevity, and efficiency. The Relion is frequently on the top of the list in consumer reviews for the best LiFePO4 batteries, and it's not even close.
As it is a smaller battery, it is much less expensive than some other batteries on our list. It only weighs 5.6 pounds, so it is a perfect fit for Van RVs or smaller RVs. You will definitely find a place for it. 
Features
Ten times longer life than comparable batteries
No voltage drops, just pure, 100% power until discharged
Easy plug and charge
Rapid charging technology
Built-in short circuit protection
Automated battery management system
If you're running a small RV or a camper van, sometimes you just don't need a $1,000 overkill deep cycle battery, and the Relion RB20 fits the bill perfectly. It Comes with everything you would expect from a LiFePO4 battery and functions just as well, albeit with a constant current of only 20Ah.
The best part about this battery is how small, portable, and powerful it is at the same time. Even if you're a pack rat when it comes to your camping trips, you can find room for this battery. 
All the automated self-protection features are present here, from low and high temp cut-off to short circuit protection. It's a reliable battery from -4°F to 158°F, so you have a broad temperature category to work with. 
Charging is a breeze, and you can have the Relion up and running in an hour flat, and it will run for 5,000 cycles. The usual lower limit is 3,000, but this Relion is known for exceeding that number by a wide margin. 
Pros
Cons
1. Excellent longevity between charges
2. Automated self-protection features
3. Wide operating temp range
4. Rapid charging
5. Very lightweight and portable
6. Inexpensive
1. Designed only for smaller RVs and camper vans
We have taken you from the lows to the highs, from the smallest to the largest, and the CHINS 12V Deep Cycle LiFePO4 is the largest battery on our list and easily the most expensive. However, there is too much to like about it to leave it off our list. 
Even though it's a LiFePO4 battery, the CHINS weighs 67lbs, so whenever you get this battery situated, you'll probably want it to stay there for the entirety of its run. 
Features
200Ah continuous current
Rapid charging for such a large battery/6 hours
Built-in battery management system
Protection from over-discharge
Protection from short circuit
Allows 4 additional battery connections
Provides 600A for five seconds
Although the CHINS can run up to 600A for five seconds, it's not recommended for cranking engines, though it could do so in a pinch. It is best known for the long-lasting, powerful thrum of its constant 200AH of power. 
As large as it is, it has a slightly lower cycle rating than the rest of the batteries on this list at 2,000 to 4,000 cycles, usually reaching the higher end of that equation. However, you will have to spend a pretty premium for all that battery power. Amazon has the current price listed here. 
Pros
Cons
1. Long-lasting cycles
2. 200Ah continuous power
3. Built-in self-protection systems
4. Supports four additional batteries in a series
5. 600A for five seconds
6. Rapid charging
1. Large and heavy
2. Very expensive
All Things Considered
There you have it—our top five LiFePO4 deep cycle batteries. We've got you covered whether you are going small or as large as you can. These batteries are some of the best in the industry—dependable, long-lasting, and highly efficient for use in RVs.
Don't forget to check out our Recommended RV Equipment list!
Get a FREE copy of the Go Together Go Far Travel Trailer Hookup and Disconnect Checklist when you sign up for the Go Together Go Far Newsletter!