Hocking Hills is the crown jewel of Ohio's natural wonders. It is a place filled with outdoor attractions, adventures, and relaxation.
You'll also find plenty of dining and shopping opportunities during your stay in the area.
One of the best ways to experience the Hocking Hills region is to stay in one of the area's fantastic cabins. You'll get to be closer to nature, experience the seasonal colors, and enjoy quiet moments alone or with the people you love.
Rentals can move quickly, so book your Hocking Hills cabin right away to secure your relaxing adventure in the heart of Ohio.
Best Hocking Hills Cabins for Rent
Although most Hocking Hills cabins are available to rent throughout the year, changing circumstances can alter availability at a moment's notice. Please contact each provider to determine the dates you can stay, cancellation policies, and other essential information about this adventure.
When you're ready to reserve a cabin, these outfitters provide a broad range of amenities and styles to fit almost any preference.
Get a FREE copy of the Go Together Go Far Travel Trailer Hookup and Disconnect Checklist when you sign up for the Go Together Go Far Newsletter!
Campfire Cabins
Located only seven miles from Ash Cave and minutes from Highway 56, you'll love how close you are to the action when choosing this Hocking Hills cabin provider. The amenities offered include a custom-made pool table, a covered fire pit, and a full-size home theater.
You'll also have access to a stocked fishing pond during your stay at the cabin. It sleeps up to ten people, providing plenty of space for everyone to stretch out.
Special rates are possible if you plan to stay for more than a week at The Lantern. More information is available at the cabin's website or by calling (740) 442-0982.
Campbell's Hollow Cottages
You'll find 45 acres of secluded forest awaiting your arrival if you choose this Hocking Hills cabin outfitter. You are only minutes away from all of the best attractions, yet it feels like you're a world apart from the everyday stress that happens.
The property offers a hot tub at each cottage. You'll find picnic and campfire areas to enjoy, air-conditioned units, and charcoal grills to use.
Whether you come to the region to enjoy the cool mists of May or the beautiful foliage of autumn, these cottages provide the perfect getaway where you can plan your own adventure.
More information about the area, including the wildlife that visits the property, is available on the company's website. You can also call 1 (877) HOLLOWS to learn more about rates and local activities.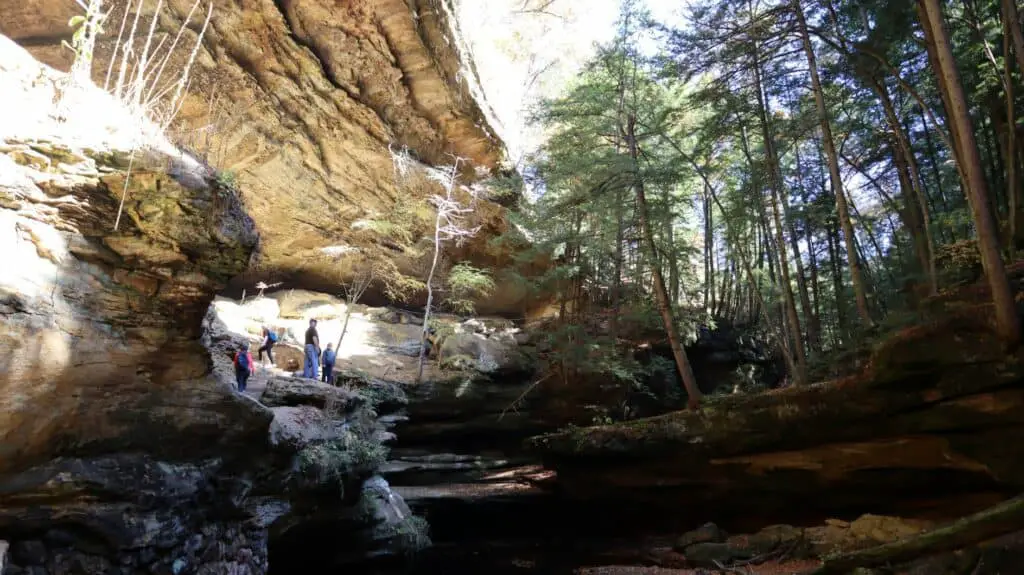 To get the full Hocking Hills experience, be sure to bring a great outdoor hammock like this one from Wise Owl on Amazon.
Carefree Cabins
Built in 2017, you'll find secluded log cabins that provide the perfect opportunities for romantic adventures and family vacation experiences. Two additions to the property are couples-only options that put you within minutes of the Hocking Hills state parks.
After a long day of hiking, come back to your cabin to soak in the outdoor hot tub. Some have exclusive massage chairs to help you relax. The couples-only spots include an outdoor fireplace that's perfect during the chilly spring or autumn nights.
With paved driveways providing access to each cabin, you'll have no trouble reaching your preferred destination! Call (740) 216-4790 to book your stay, or you can visit their website for additional information.
Canterbury Cabins
If you want to be away from everyone and everything, this A-frame cabin is the perfect opportunity to enjoy the best of the Hocking Hills region. It offers a reading library, movies, a gas fireplace, and a fire ring for you to get closer to nature.
You can relax in the hot tub while enjoying the views from the large deck. The cabin is right on a private lake, letting you hike or fish whenever it feels like the right time.
You're also just minutes from all of the best attractions in the region.
If you'd like to have a quieter place to stay while visiting Ohio, call (740) 385-4433 to reserve your time. You can also visit the cabin's website for reservations.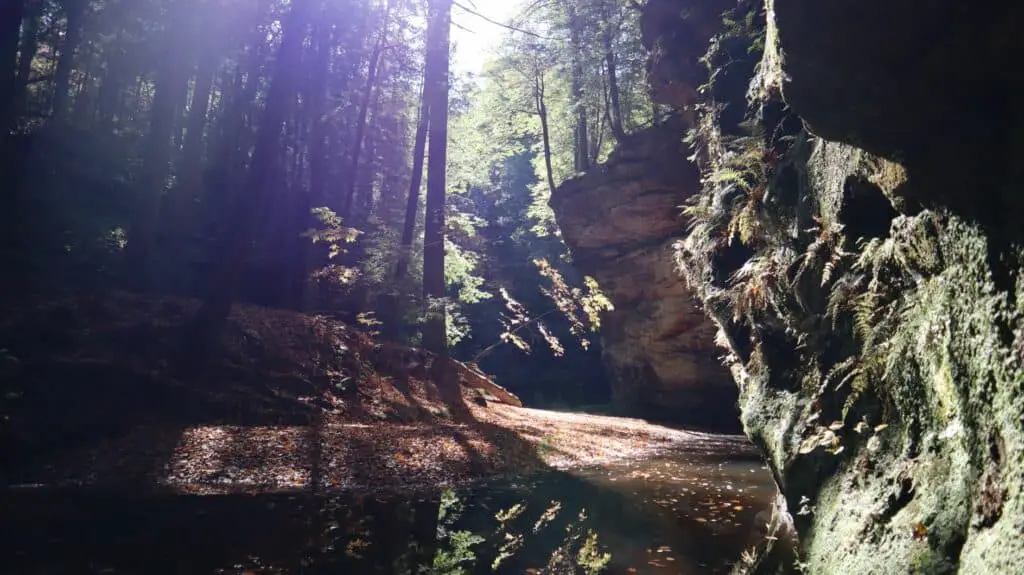 Carr Ridge Cabins
These beautiful cabins provide some of the best views of the Hocking Hills region. Several options are available at this 70-acre property, including a 2019 edition called Whitetail Hollow.
A 30-acre valley is a perfect place to see the colors of a sunrise or sunset, along with the foliage that appears during the autumn months.
You're not far from Hamden or Wellston at this location, ensuring that you can grab all of the supplies needed for a quiet adventure. You're also just a short drive from the Appalachian Highway and all of the region's best sights.
If you'd like more information about amenities or availability, visit the company's website or call (740) 503-2796.
Canopy Ridge Cabins
If you want the traditional log cabin experience during your stay in the Hocking Hills region, this outfitter provides you with the seclusion and views you want.
The cabins sit on a 60-acre property where you are more than 1,000 feet above sea level. You'll be living along with the forest canopy during your stay, with cabins that feature fireplaces, hot tubs, and spa-like bathrooms.
You even have the option to rent a treehouse.
Many of the cabin retreats are recently constructed, ensuring that you receive the most relaxing moments of your entire vacation or holiday experience.
You can call (740) 478-2377 or visit the company's website for more details about cabin availability.
Chandler's Enchanted Acres
These stunning Hocking Hills cabins are Amish-built and featured across 45 wooded acres. You'll get a queen-sized bed, a refrigerator, a microwave, and a comfortable environment to enjoy while you get cozy with your family.
Each cabin features a grill, fire pit, and a picnic table to enjoy outside.
Some lodging options feature sleeping accommodations for up to six people. The largest cabin is 14×24 feet, with a hot plate, oven, and plenty of privacy.
Please dial (740) 385-0633 for more information about this unique way to experience all of the parks and trails found in the Hocking Hills region.
Clear Creek Ridge Cabins
You can sleep up to 14 people in a single party when choosing from the different cabins provided by this Hocking Hills outfitter. All of the spacious log-style designs are right in the heart of Ohio's beautiful country, providing a rugged way to enjoy a holiday with some of today's best amenities.
You're a few minutes away from I-71 with this location, but it feels like you're a world away. It's set on 14 acres conveniently located between Ashley and Marengo to provide full access to the entire area.
When the autumn colors start showing off their glorious displays, you will want to call this cabin home for the foreseeable future! Seasonal discounts may be available, and returning guests often qualify for discounts.
Call (740) 596-1830 for more about this opportunity or visit the outfitter's website for more information.
Chestnut Grove Cabins
These beautiful log cabins all sleep six people comfortably. Each one comes entirely furnished for your enjoyment.
It is also one of the few pet-friendly Hocking Hills cabin providers that you'll find. Hot tubs, large rooms, and secluded spaces let you explore at will from this convenient location right off Highway 56.
Three options are available for reservation, with Wi-Fi, charcoal grills, and fireplaces included with each cabin.
You'll find more information about the available amenities by calling 1 (866) 332-7122 or visiting the company's website.
Boxen Ridge Lodging
This luxurious cabin sits on 16 acres of wooded lands to explore in the middle of Hocking Hills. It comes with every amenity you'd expect with this investment, offering four bedrooms and three bathrooms to support even large groups or families.
You'll love the dual showerheads in the master bath, while the outdoor fire pit and picnic area is the perfect way to relax after a long day of exploration. A game room with darts, air hockey, and board games is also included.
More information is available at the Charleston Lodge website. You can also call (937) 231-242.
Cedar Pines Cabins
This outfitter offers four different cabins for you to consider. Each one comes with a private setting to create the perfect escape for everyone in your family or party.
Property options include a secluded hideaway, views of a fishpond, and a rustic retreat sitting in the middle of a pine forest. All of them are located along Highway 93 for added convenience.
You can find more information at the Cedar Pines Cabins website or by dialing (740) 380-2066.
Are You Ready to Explore Ohio's Hocking Hills?
Hocking Hills provides the perfect outdoor playgrounds for the young and elderly alike. With stunning trails, seasonal opportunities, and beautiful lakes or caves to explore, a peaceful and secluded place to stay awaits these cabin providers.
From stargazing to birdwatching, you'll find each cabin offers some unique rewards!
Reservations at most properties must be made 4-6 weeks in advance to secure your preferred dates. Some cabins need up to six months. Please contact each provider to discover more about availability, rates, and amenities.
If you're looking for the best Hocking Hills activities, look at our Ultimate Hocking Hills Guide or our shorter guides on some of the hiking activities in Hocking Hills, Ohio.
Get a FREE copy of the Go Together Go Far Travel Trailer Hookup and Disconnect Checklist when you sign up for the Go Together Go Far Newsletter!