Hocking Hills Ohio: Caves & Hiking In Ohio!
The Hocking Hills Ohio region, and Hocking Hills State Park are located in Hocking County, Ohio. It is a little south of central Ohio and sits about midway between Athens and Chillicothe, Ohio.
The entire region is populated by state parks, hiking trails, and natural attractions. The state park has over 25 miles of hiking trails split up over a half dozen parts of the park.
Multiple Native American Tribes, including the Shawnee, inhabited the area, leaving their marks on surrounding landscapes and caves.
The Hocking Hills State Park and surrounding regions are popular destinations year-round.
Get a FREE copy of the Go Together Go Far Travel Trailer Hookup and Disconnect Checklist when you sign up for the Go Together Go Far Newsletter!
If you're going to be in the area, don't miss out on the John Glenn Astronomy Park. It is, without a doubt, a sight to behold. Our young twins still talked about our visit there two years ago.
"The Hocking Hills, in rural southeastern Ohio, is one of the few areas left in the state of Ohio where the night sky can be seen in its near-pristine state. The observatory will provide a venue for visitors to the Hocking Hills State Park to experience the night sky through a large telescope and with their eyes."

From JGAP.com. Visit the John Glenn Astronomy Park for more information.
Hocking Hills Directions
Hocking Hills State Park Address: 19852 OH-664, Logan, OH 43138
From Cincinnati, OH, we like to take OH-28 to US-68 N, to US-22, to US-35 East. That route adds 10-20 minutes to the 2+ hour trip for us; it is a much more pleasant back road. The significant alternative is to take I-71 N out of Cincinnati most of the way, which is mostly interstate speeds and semi-trailers. Do yourself a favor, choose the back roads, and enjoy yourself.
From Columbus, OH, there are also two major routes. They are both just over an hour and fairly stress-free.
Map
Trails
Caves in Hocking Hills
One of the big draws to the Hocking Hills Ohio region is the dramatic landscapes. This includes about a half dozen cliffs and caves. Some are detailed below. These are very different caves from the deep cavernous caves of Mammoth Caves in Kentucky. These caves were primarily on the surface, and once you see one like Ash Cave, you'll understand why it was home to the region's Native American tribes.
Cantwell Cliffs
Cantwell Cliffs in Hocking Hills are a must-see. They are not as popular as some of the caves, but the landscape is stunning. The site contains dramatic cliff faces, valleys, and a pass-through jokingly called "Fat Woman's Squeeze." While the trail is only about 1/2 mile, it has plenty of steps and may be challenging if you have mobility challenges.
Cantwell Cliff's Address: Hocking Hills State Park – Ohio 374, Rockbridge, OH 43149
Ash Cave
As mentioned, Ash Cave may be the best well know of the Hocking Hills caves. Ash Cave has a large overhanging cliff, complete with a running waterfall and shelter. The regular freshwater and surrounding forest would have made it an ideal location to settle for both Native American and European settlers alike. The cave is named from the abundance of ash found at the cave, as evidence of cooking fires and other activities. In some spots, the walls and ceiling of the cave are still discolored by soot from those long gone fires. The hike to the cave from the parking lot is short and paved and should be wheelchair accessible with a little assistance. Ash Cave itself is not paved but is relatively flat and navigable with help. I think this can be enjoyable for the whole family.
Ash Cave Address: Hocking Hills State Park – 27291 Ohio 56, South Bloomingville, OH 43152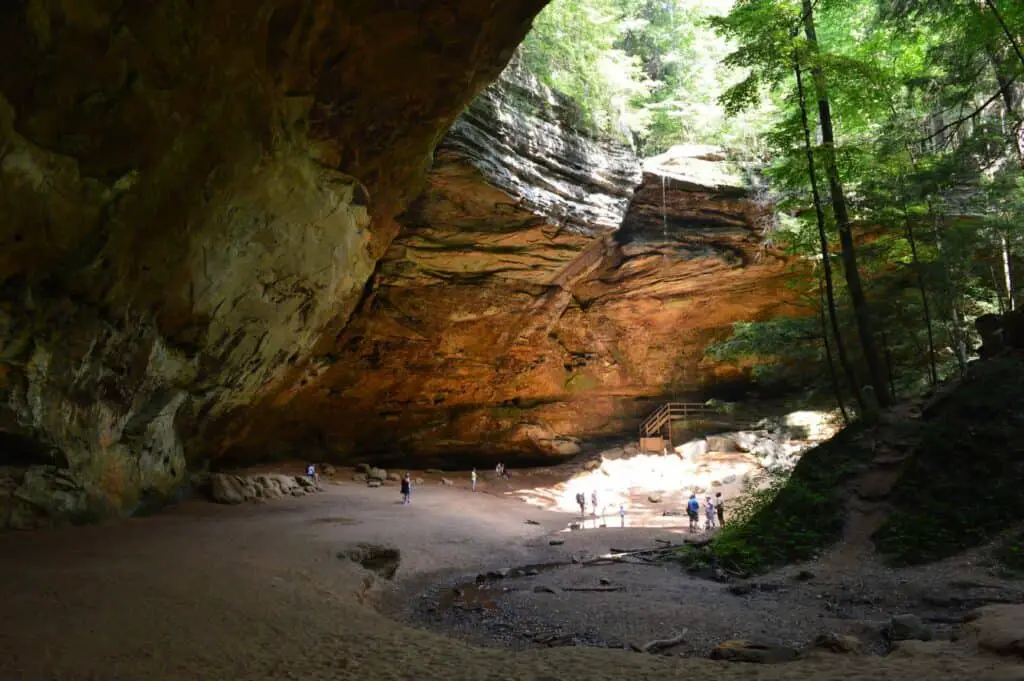 Old Man's Cave
Old Man's Cave in Hocking Hill is one of the premier attractions. The hike to Old Man's Cave is about a mile and can take about an hour, depending on your ability. Along the route, you'll see unique water/rock features. For instance, The Devil's Bathtub and the Sphinx Head are unique to the area and shouldn't be missed. That's our twins posing on an accessible rock formation in the picture. There is a wheelchair/stroller route from the park office that may be more comfortable for some individuals.
Old Man's Cave Address: Hocking Hills State Park – 19852 Ohio 664, Logan, OH 43138
Conclusion
If you're planning a trip to the Hocking Hills Ohio region, prepare to spend a couple of days here. It is one of the great state parks in Ohio. Take your time and enjoy the natural beauty of the area. Therefore, please don't rush through it. There are some fantastic options for lodging in the Hocking Hills area specifically. If you're looking for something closer to Cincinnati, check out some of our other posts in our Campgrounds Near Me series.
Don't forget to check out our Recommended RV Equipment list!
Get a FREE copy of the Go Together Go Far Travel Trailer Hookup and Disconnect Checklist when you sign up for the Go Together Go Far Newsletter!
Happy Camping!