Rocky Fork Lake and State Park is one of Ohio's 75 state parks and is located in the southwest portion of the state. This state lake is an hour and fifteen minutes east of Cincinnati, OH, and an hour and a half south of Columbus, OH. Rocky Fork cabins are available, and the location makes for great camping, fishing, or weekend getaways.
We try to go camping there at least once a year. It is a convenient drive for us out of Cincinnati, and we have a specific campsite there we love. The kids love the playgrounds, and we can keep an eye on them right from the campsite.
Get a FREE copy of the Go Together Go Far Travel Trailer Hookup and Disconnect Checklist when you sign up for the Go Together Go Far Newsletter!
We did a YouTube video on our most recent trip there.
You can find a map of the entire Rocky Fork State Park here.
Rocky Fork State Park Campground
The state park generally sits in two parts, an upper and lower campground. The lower campground consists of 20 full hookup sites that are well suited for larger RVs.  The campsites are flat and close to the water but have limited shade. The upper campground is a little more mixed. It has 170 sites ranging from non-electric to full hookups. These sites are more traditional state park campsites and are more heavily wooded.
If you're looking for the official Rocky Fork State Park Campground map, you can find that here.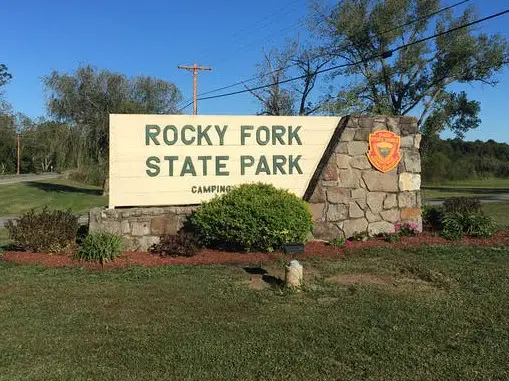 Contact Info: 
9800 North Shore Dr
Hillsboro, Ohio 45133
(937) 393-4284
Reservations for State Park can be made at reserveohio.com.
Rocky Fork Lake
Rocky Fork Lake is a fantastic weekend getaway, even if you're not camping. The lake itself is over 2000 acres and allows unlimited horsepower boating. That means it is fun for skiing and tubing. 
If fishing is more your style, the lake boasts great bass, muskie, and walleye fishing.  Ohio fishing licenses are required but you can get them here.
Rocky Fork Lake Cabins
If you're interested in spending some time at the lake, but camping isn't your thing, maybe some cabins are more your style.  There are a variety of cabin options available.  Some of the most popular Rocky Fork Lake cabins are:
Valley View Cabin – A comfortable cabin with all the amenities.
Lazy H Cabins – Offers 19 cabin options near the lake and nearby Paint Creek.
Blueberry Hill Cabins – Has a selection of 10 rustic cabins that are perfect for reunions, vacations, and nightly rentals.
These cabin options give you all the same access to the lake amenities as the state park, but none of the hassle of camping.
Rocky Fork Local Attractions
The lake at Rocky Fork isn't the only attraction in the area. If you're interested in a fun little road trip, check out The World's Largest Horseshoe Crab! It is a quick little roadside attraction but is a really fun stop with the kids.
One of the most fun stops near Rocky Fork is a stop at Terry's Ice Cream Dairy Bar. This little mom-and-pop store has the most amazing milkshakes. There is typically a wait, but it's worth it.
Overall
Rocky Fork Lake and the associated state park is a tiny jewel in southwest Ohio.  The state park campgrounds are well maintained and clean. The lake water is clear and crisp. If you are looking for a convenient fishing trip with the guys, or a lovely camping weekend, this might be the place for you. 
Interested in other great fishing lakes in the area? Check out our post on Nolin Lake in Kentucky.
Get a FREE copy of the Go Together Go Far Travel Trailer Hookup and Disconnect Checklist when you sign up for the Go Together Go Far Newsletter!
Happy camping!