As I have gained experience in travel trailer towing mechanics, I have become interested in exploring additional options for improving the handling and safety of towing my 33-foot travel trailer with my Ford F-150.
Someone told me about Roadmaster Active Suspension (RAS). I was intrigued and did some research and want to share what I found. Does Roadmaster Active Suspension work?
How does Roadmaster Active Suspension work? The Roadmaster Active Suspension works by applying an additional set of springs to your tow vehicle's rear leaf springs. These springs apply corrective counter assistance to the existing leaf springs to reduce sag or prevent "bottoming out." This provides a smoother ride and more control. 
The Roadmaster Active Suspension doesn't increase your tow vehicle's payload capacity, but it does safely improve how comfortably the vehicle can carry heavier loads (within existing limits). 
The Roadmaster Active Suspension provides more than just one type of performance improvement. RAS can provide some of the same performance improvements like airbags, helper springs, sway bars, and traction bars combined.
These individual products may perform their specific functions well, but for the performance improvement I'm looking for when towing my travel trailer, installing the RAS is clearly the best option. We specifically compare the RAS to airbags and supersprings later in this article.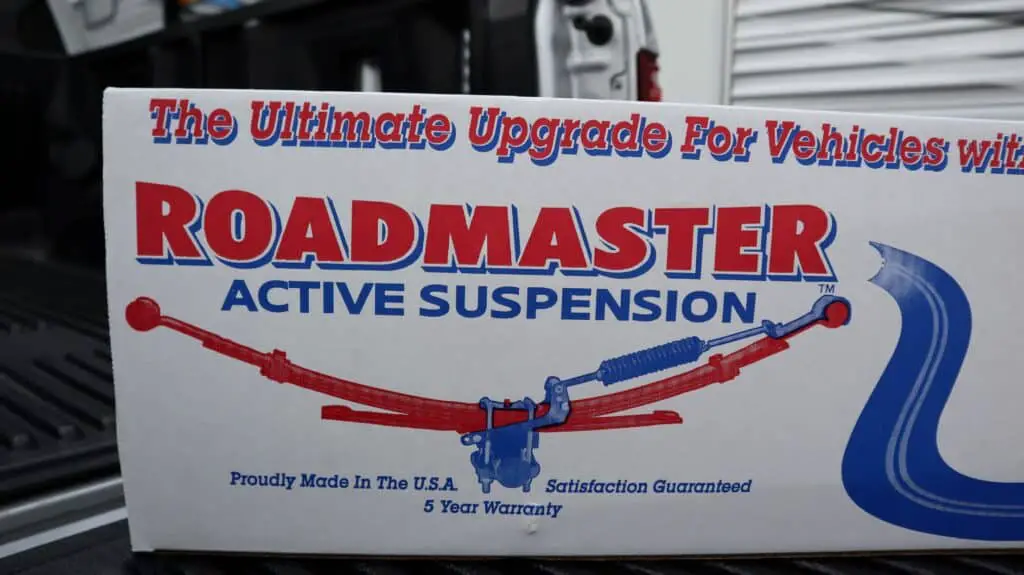 This is not a sponsored article, but I want to be fully transparent with readers. Roadmaster Active Suspension sent me a kit for free. This allowed me to film videos on installing it and gain firsthand experience on how well it worked.
The part I love is that RAS didn't even ask that I say or do anything in particular. They were willing to let the product speak for itself. It is extra fun for me because it allowed me to test the product in my own unique way. Read on to learn more.
Get a FREE copy of the Go Together Go Far Travel Trailer Hookup and Disconnect Checklist when you sign up for the Go Together Go Far Newsletter!
How Well Does Roadmaster Active Suspension Work
The Roadmaster Active Suspension works really well. Properly installed, it can improve your suspension by 25% to 40%.
If you are looking to improve the suspension and handling with or without a load on your truck, this is an option worth considering.
To prove it to myself, I put the RAS to the test with a Bluetooth sensor. You can see the results for yourself on my YouTube video.
If you'd like to see the little sensor I used, check it out on Amazon here.
If you'd like to see the Google slides from the end of the video, click here.
If you'd like to learn more about the Blue Ox SwayPro I used in this video, check out our blog post.
Don't forget to check out our Recommended RV Equipment list!
Roadmaster Active Suspension Installation
Installing this Roadmaster Active Suspension kit, or RAS doesn't require highly specialized tools or a trained professional. Here is the Amazon listing for the kit I am installing. 
I think installing the RAS takes just a little more skill than changing the tire on your car.
Roadmaster Active Suspension also provides clear step-by-step instructions PDF that you can access directly from their website. If you prefer a video installation guide, you can refer to my installation video below.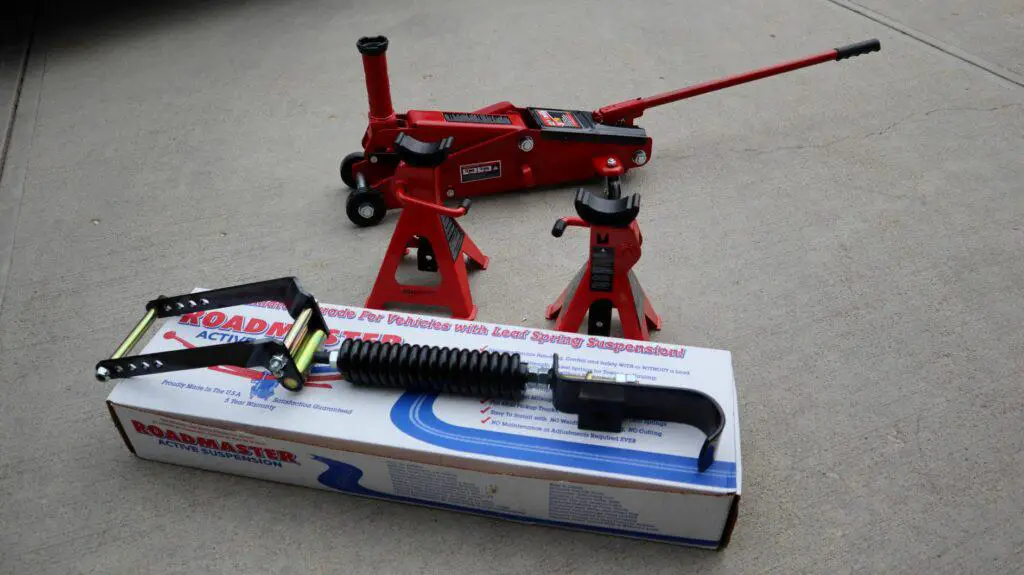 For a 2019 Ford F-150, there are less than ten steps in the process. Each of these steps can be broken down into individual smaller tasks.
Installation of the Roadmaster Active Suspension on other makes and trucks models is generally the same, but some have slight differences to be aware of.
Please refer to the instructions specific to your vehicle. The PDF or my installation video is probably better for the fine details of installation on a 2019 F-150, but we'll also outline them here. 
The key to a successful install of the RAS is making sure all tension is off the rear leaf springs. That means you need to lift the back axel of your vehicle off the ground. 
Roadmaster Active Suspension Installation Steps
1. Prepare the truck for installation.
2. Attached RAS to leaf springs
Position the fully pre-assembled RAS with the "eye bracket hook" on the rear part of the leaf spring. The "hook" on the RAS should fit nicely over the leaf spring's rear wrap eye.
Position the axle bracket, front bolt, and spacer over the leaf spring center and remove the front bolt and spacer. The axel bracket should start to slip around the leaf spring. 
Unscrew the center rod to make the RAS longer, so there is room to reinsert the front bolt and spacer after it slides in front of and under the axel.  
Reinsert the bolt and spacer under the leaf spring. 
3. Adjust The Coil Spring Tension
Adjust tension using a 14 mm socket and 22 mm wrench. Use the wrench to hold the rod in place and the socket to apply tension to the RAS coil.
Measure the tension on the RAS coil by inserting the white or black disk between the coils. When the 1 mm white disk slides in, the RAS is adjusted to provide about 25% improved handling. The black 2 mm spacer offers about 40% improved handling. NOTE: The RAS instructions refer to this as "additional load carrying." I'm not too fond of that terminology. I think it is easily confused with an additional "Payload Capacity" of your truck. The RAS will improve handling when you are under heavier loads, but it will not increase your max Payload Capacity. Payload Capacity is set by the manufacturer and takes into account more factors than just the suspension system.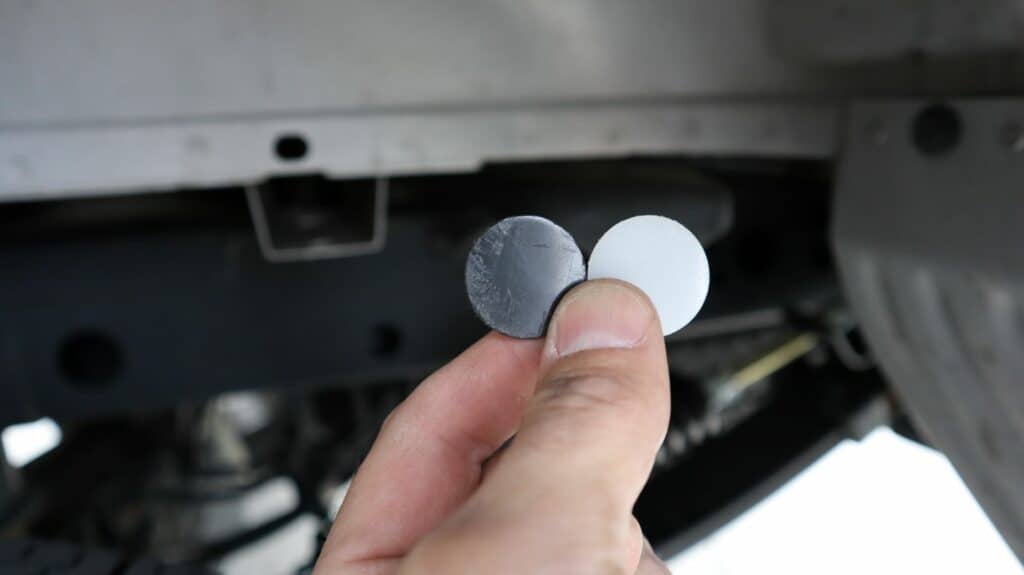 4. Lock the RAS into place
Once you reach the desired tension on the coils, adjust the two nuts against the coil to lock it into place. 
5. Repeat for the process for the opposite side of the truck.
6. Reinstall both tires.
7. Remove the jack stands, and lower the truck slowly and safely.
8. Tighten all the tire's lug nuts.
9. Remove the chocks.
Congratulations! You just installed the Roadmaster Active Suspension!
Can Roadmaster Active Suspension Work With A Weight Distribution Hitch
Yes, you can use a weight-distribution hitch with the Roadmaster Active Suspension. In fact, they can work very well together.
A weight distribution hitch and the RAS both help with a sag in the rear of the truck while under load. While the RAS provides enhanced stability, it doesn't provide as much direct sway control as a Blue Ox SwayPro does. The combination of the two gives you the best of both worlds. 
I will be using a RAS and a Blue Ox SwayPro in combination.  My travel trailer has a hitch weight of 899 lbs. That is on the heavy side, and I like the stability the Blue Ox weight distribution provides.
That amount of hitch weight can really put some sag in my truck. I am counting on the idea that these two products will work well together. 
If you're interested in the improvement in handling, sway, and tow that a Blue Ox SwayPro can provide, you can view our post and instructional videos on it here.  You can also find the Blue Ox SwayPro on Amazon here.  
I will be recording and showing the effects on ride handling for the RAS and weight-distribution hitch combined with an upcoming YouTube video series. It will be posted here once complete. 
How Does Roadmaster Active Suspension Compare to Airbags
The question of how Roadmaster Active Suspension compares to airbags comes up a lot.
Roadmaster Active Suspension and airbags are very different products and a strait comparison isn't fair. Airbags are primarily used to reduce truck squat or sag when towing. While the RAS does that too, the RAS is designed to do much more.
The Roadmaster Active Suspension also improves performance in much the same way that helper springs, sway bars, and traction bars all do too. Airbags, helper springs, sway bars, and traction bars are all very different pieces of equipment, but the Roadmaster Active Suspension can provide the same benefit as all four of these products.
For my purposes, I am primarily focused on improving squat and back up sway reduction. I have not had issues with axel wrap, where the leaf springs get twisted into an S shape. This is what traction bars help prevent. 
The RAS helps prevent axle wrap, but that hasn't been a problem for me so far. I will be focusing on the Blue Ox to reduce my sway, but don't mind the RAS's additional sway control.  
How does Roadmaster Active Suspension Compare to Supersprings
Roadmaster Active Suspension is often compared to Supersprings, but there are a few important differences. If you're not familiar with Supersprings, you can see them here on Amazon. They are generally a little cheaper than a RAS, but you don't get all the same benefits.
Supersprings are essentially an additional bolt-on leaf spring. It can help smooth out your ride while under load, but it doesn't help squat as much or affect axle wrap.
For many applications, Super springs may be reasonable options to consider. The product generally gets great reviews and seems to be about the same difficulty as installing the Roadmaster. 
Final Thoughts on the Roadmaster Active Suspension
Based on my research, I think the Roadmaster Active Suspension is the top product if you're looking to improve your suspension handling while towing easily. I also don't think it is just a question of handling.
When I consider that my ½ ton truck is towing a 33-foot long trailer, it becomes another piece of safety equipment. Almost every time I am towing that beast of a trailer, I have my entire family in the truck with me. I want to have all the added safety equipment I can get to help prevent any emergence that may come up.  
I highly recommend picking up the Roadmaster Active Suspension kit for your truck on Amazon here. If you are interested in the Blue Ox SwayPro, like I have, find it here on Amazon. 
Finally, if you're interested in seeing the improvements in how a Blue Ox SwayPro hitch can provide, you can see my article on it here.
I sincerely hope this helps you in your own personal research into the RAS. If you would like additional information on the RAS, check out their website here. 
Be sure to subscribe to our YouTube channel and take a look at our other articles. 
Get a FREE copy of the Go Together Go Far Travel Trailer Hookup and Disconnect Checklist when you sign up for the Go Together Go Far Newsletter!
Don't forget to check out our Recommended RV Equipment list!
Happy Camping!