RV Checklist Apps Make Setup and Teardown Easier
When I started RVing, I found that I rushed and missed critical steps. Creating a good RV checklist really helped me. I started wondering if anyone made a good RV checklist app. I did some research and found a few useful apps.
A definite must for the camping world is a good RV checklist. Having a good RV checklist app ensures you're 100% prepared and organized for your next trip. Sure, you can print out a checklist or scribble it out onto a piece of paper, but nothing beats the convenience and ease of using an RV checklist app to organize your trip.
Right in the palm of your hand, you can plan out your next camping trip and organize everything you need to do to set up your site, and then pack it up for the next.
Here's my list of apps you should install today to make planning and preparing an RV trip a breeze.
Get a FREE copy of the Go Together Go Far Travel Trailer Hookup and Disconnect Checklist when you sign up for the Go Together Go Far Newsletter!
The RV Trip Wizard App is a great tool for new and experienced RVers. It isn't just a checklist of items that may not apply to you. This app, by RV Life, allows you to plan routes and offers unbiased reviews of campgrounds and more.
It even offers a way to customize your route needs based on your RV specifics.
It isn't a free app like the others, but sign up for the free 7-day trial and see if it is worth it to you.


Links on this page are affiliate links. As an Amazon Associate, I earn from qualifying purchases. If you choose to make a purchase using these links, I will earn a tiny commission that comes at no cost to you but helps me keep providing the content I love to share. I recommend these products because I have found them to be helpful and useful, not because of any commissions I make.
RV Checklist App
This app is great because anyone with an RV can use this app. These RV checklists are pre-configured so that both RV newbies and vets can find them helpful. The customizability of these lists allows you to create and add multiple lists and tasks, add or remove steps as needed, and you can even track your progress on your checklist.
Some of the pre-configured lists you can choose from:
RV Departure Checklist
RV Arrival and Departure
Camping Preparation
In this app, lists are also shareable. You can upload or export checklists so you can share them with one another. If you wanted to save it to your phone as a backup, you can do that.
The steps are simple and easy to understand. It's a straightforward app that is easy to use and simple to understand. Available in the Google Play store, all you have to do is download it to your phone. It's much easier than relying on only your memory or wasting time writing tasks on a piece of paper that can be lost.


Ultimate RV Checklist
Whether you are brand new to the full-time RV lifestyle or a seasoned vet – setting up and tearing down your rig is a tedious process.
Ultimate RV Checklist provides comprehensive lists with steps needed to set up and break down your rig based on the specific model of your RV.
The lists are completely customizable so you can add or delete steps based on your own setup and breaking down process. Hey, maybe you don't mind an apple or two flying out of your cabinets as you drive.
My only gripe with this app is how clunky the user interface is. Editing categories and steps in the lists can take longer than expected. It also cost $1.99.
However, ultimately it gets the job done. The lists in this app cover everything you might need for your RV. Definitely a must-have.


Heartland RV
Designed especially for the Heartland RV, this app has features such as a maintenance tracker, service tracker, and reference checklists.
While the maintenance tracker and service tracker can be specific to a Heartland RV, it can be useful no matter what brand of RV you have. The app shows service centers en route via a map view or list view. There's also the ability to explore your surroundings. On the map, you can see campgrounds, restaurants, parks, and other attractions so you can plan everything about your trip in the palm of your hand.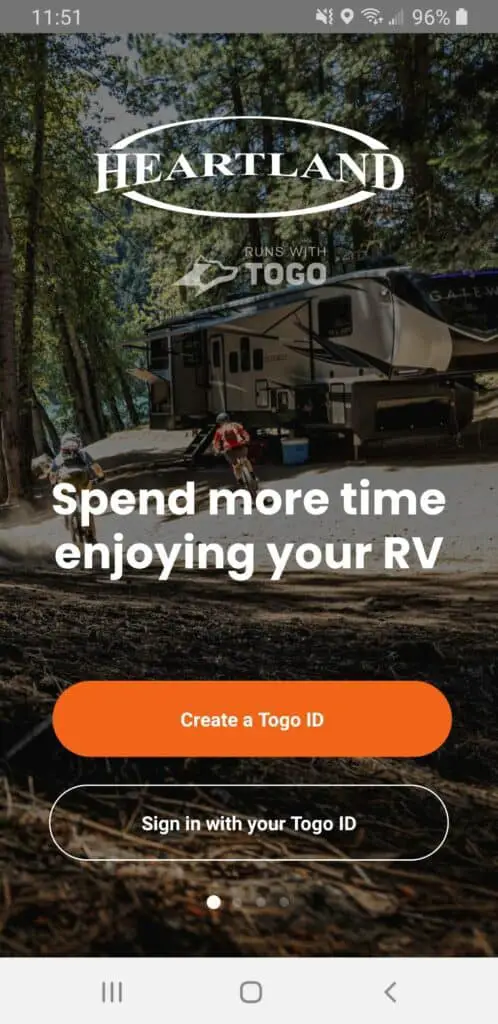 The RV checklist is just one of the many features this app has to offer. The lists are pre-created "ready to go" checklists that outline steps to plan your trip, set up your rig, and break it down before leaving to your next destination. Unlike other apps, these checklists aren't as customizable. However, if you want the authority of the Heartland brand and you want to utilize the other features in the app, this app is worth a download.
Interested in more RV and Camping related apps? Check out our YouTube video on some of the other great ones we've found.
Don't forget to check out our Recommended RV Equipment list!
Get a FREE copy of the Go Together Go Far Travel Trailer Hookup and Disconnect Checklist when you sign up for the Go Together Go Far Newsletter!