Campgrounds Near Me: Lebanon / Cincinnati NE KOA Holiday
     We have always had good experiences while camping at KOAs. Camping at the Lebanon / Cincinnati NE KOA was no different. Initially, we had planned to camp at this KOA to visit some local amusement parks, which I'll provide some information about below.  Unfortunately, due to social distancing, those amusement parks were closed.  No worries.  But, because we haven't had the chance to go camping yet this season, we still took the opportunity. I'm glad we did because it was worth it. 
The Lebanon / Cincinnati KOA Campground
Here are the basics of the Lebanon / Cincinnati KOA Campground:
Address: 760 Franklin Rd, Lebanon, OH 45036
Phone: (513) 932-7717
     The Lebanon / Cincinnati KOA has 126 sites, including cabins and tent sites.  It has 80 full hookup sites! 
3 Deluxe Patio Sites
43 Full Hookup 50/30 amp
37 Full Hookup 30/20 amp
14 Elec. & Water 50/30 amp
8 Elec. & Water 30/20
10 Deluxe Cabins
11 Tent Sites
Get a FREE copy of the Go Together Go Far Travel Trailer Hookup and Disconnect Checklist when you sign up for the Go Together Go Far Newsletter!
Overview
     Now, like most KOAs, the sites here are a little smaller than what you typically have at a state park.  That said, they are clean and very well maintained.  We were on a gravel pad; it had been recently smoothed and leveled.  The utility hookups were high quality and didn't look like they were going to shock you as soon as you plugged in.  As well as the area around the utilities was mulched and clean.  
     The camp store looked fully stocked.  Not only did they have the standard t-shirts, collectibles, and camp store items, but they also had a sizable selection of BBQ grilling accessories and RV repair parts.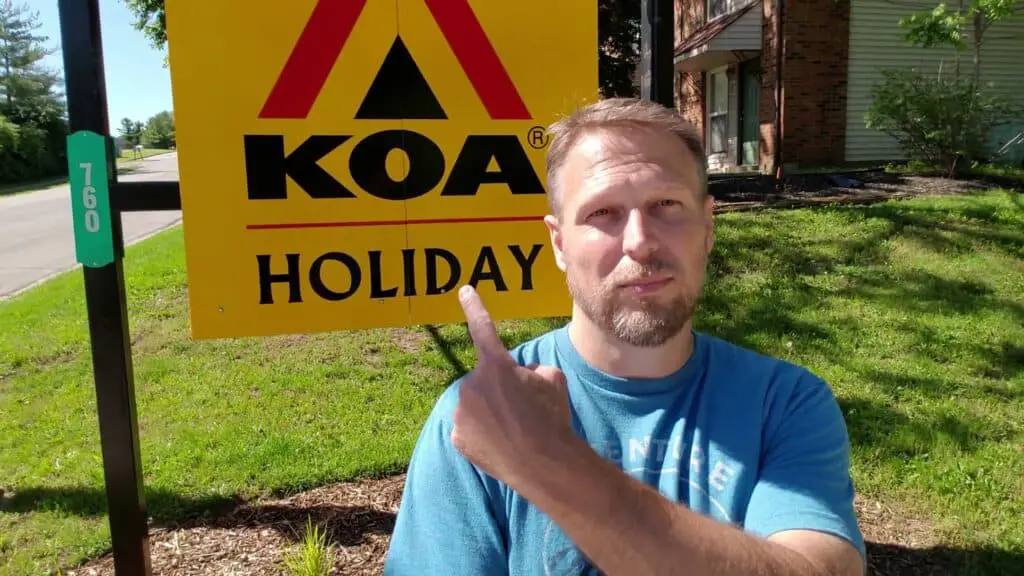 Their bathhouses were out of this world.  Seriously. In a typical state park, you'll share the bathhouse with every nighttime insect and that general musty smell.  This KOA has bathrooms nicer than my house.  It was just like a typical bathroom in a home.  The sign said they cleaned it twice a day, and more frequently during social distancing.  
     In addition to the above amenities, they also had a pool, a small dog park, a jumping pad, a playground, and a GaGa ball pit.  Many of these were closed when we were there due to social distancing rules. The pool was open, so that was all my twins cared about doing.  It wasn't a huge pool, but like the rest of the campground, it was clean and well maintained.
Nearby Attractions
     One of the primary reasons to come to the Lebanon / Cincinnati KOA is the big family attractions within a reasonable driving distance.  
All Ages: City of Lebanon
     The KOA is right near the center of the historic City of Lebanon, OH.  Lebanon.  The first European settlers to the area came in 1796.  Arguably the most famous restaurant in the area is The Golden Lamb Inn. It was established in 1815 and visited by 12 presidents. The fried chicken is pretty good.
     Within walking distance from the Golden Lamb Inn is the Lebanon Mason Monroe Railroad, which regularly holds train-related activities. We didn't ride it during this trip, but we have done their Polar Express ride during Chrismas before.  It was a blast. 
Adults: Valley Vineyards
      Just down the street is Valley Vineyards, the local winery.  While I say it mainly for adults, they often have live music outside and other events there.  Generally, it is pretty kid-friendly. 
All Ages: Kings Island
     With more than 100 rides, shows, and attractions, Kings Island offers the perfect combination of world-class thrills and family attractions. Guests can experience the park's 16 roller coasters, including the world's longest wooden (The Beast) and steel inverted (Banshee) roller coasters, Diamondback and Mystic Timbers, voted "Best New Ride" in 2017 by Amusement Today. Families can spend the day together in the 18-time, award-winning Planet Snoopy kids' area. Admission to Kings Island includes Soak City Water Park, which features more than 50 water activities, including 36 water slides.
All Ages: Museums
Other Attractions
     On our visit, we went a little north to John Bryan State Park and Clifton Gorge State Nature Preserve. Both are near Yellow Springs, OH.  John Bryan State Park has some beautiful hiking trails and mountain biking trails, as well as a small but nice campground.  The fascinating scenery is at Clifton George, though. 
     Clifton George offers a straightforward hiking path with some spectacular scenery.  The small river running through this area has cut a beautiful gorge over thousands of years.  People of all ages should be able to walk these groomed trail bridges and overlooks.  If you like this sort of thing, it is worth spending a couple of hours exploring.
Lebanon / Cincinnati KOA Summary
     If you are looking for a campground that offers peace, quiet, and the isolation that comes with camping, this may not be your first choice.  If you're looking for a fun place to stay that is clean, maintained, offers excellent amenities, and is close to local attractions, the Lebanon / Cincinnati KOA is perfect. Our family had a great time there.  We were able to wear the kids out! We hope you enjoy it.  
Happy Camping!
Check out other posts in our Campgrounds Near Me Series here. 
Get a FREE copy of the Go Together Go Far Travel Trailer Hookup and Disconnect Checklist when you sign up for the Go Together Go Far Newsletter!